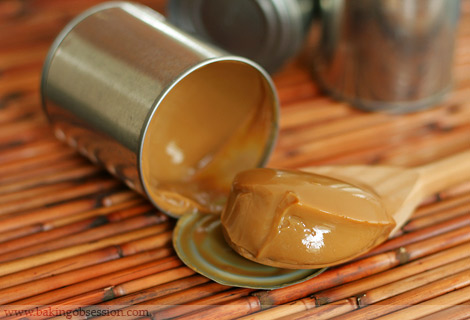 Here is a simple set of steps you need to follow to cook your can of condensed milk without a fear it explodes all over the kitchen you've just renovated.
Since it takes time, I prefer to cook more than one can at once and keep the cooked condensed milk at room temperature until needed.
Take the biggest high-sided pot you own (8-quart works well). Place one unopened can (or two, or three – as many as can fit the bottom of the pot) of full-fat condensed milk onto the bottom of the pot, pour cold water over the can/cans, so the water level is well above the cans and just about an inch below the rim of the pot. Place the pot over medium-high heat and bring to the boil. Reduce the heat to low, partially cover the pot with a lid and simmer for two and a half hours (make sure it's a low simmer, adjust the heat as needed).
I recommend to set a timer. And I don't recommend to go shopping while your dulce de leche is cooking. If the pot is tall, and the water is not boiling vigorously, you might not need to add more water to the pot. Although it's wise to check the water level once in a while (every 30-45 minutes, I would say).
The can(s) have to be submerged all the time.
If needed, add more hot water from a kettle, and continue cooking. Once the time has passed, turn the heat off and let the cans cool in the water. Store at room temperature.