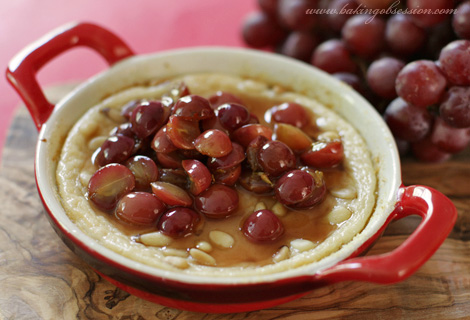 This is a kind of dessert I'm the most fond of – rustic, homey, full of flavors, and incredibly easy to prepare. Don't try to serve the pudding on its own, serve it with roasted grapes as intended. They are meant for each other providing so desirable contrast of sweet and sour, smooth and crunchy. For Russian readers of my blog (I know for sure there are at least two) – the texture of the pudding is similar to Russian "zapekanka", but it's sweeter since the ricotta cheese is way less tangy compared to tvorog (Russian curd cheese).
This is an adaptation of the latest "Gourmet" recipe. I prepared and served the pudding in individual shallow pans, each is about 4-inch wide and near ¾ -cup capacity. You can bake the pudding in a 9-inch pie-plate and serve it cut into wedges as it was suggested in the magazine.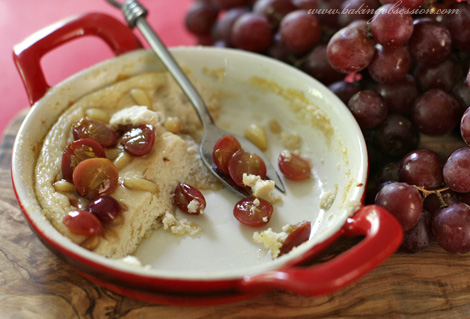 Makes 4 individual servings (if baked in 4-inch pans), or you can try to feed 6 persons (if baked in the pie plate and cut into wedges)
Ingredients:
2 tbsp unsalted butter, melted, divided
2 tbsp plain fine dry bread crumbs
15-oz container of whole-milk ricotta
2 large eggs
¼ tsp cinnamon
1/8 tsp salt
5 tbsp sugar, divided
¼ cup lightly toasted pine nuts
2 cups red seedless grapes, halved (I personally don't mind fine grape seeds, they add nice crunch; that's what I used – small red grapes with seeds)
1 tbsp balsamic vinegar
Preparations:
Position the oven racks in the middle and in the lower third of the oven and preheat the oven to 375F.
Butter 4 4-inch baking pans with some melted butter, then sprinkle 1½ tsp bread crumbs into each pan, spread to coat.
Blend the ricotta, eggs, cinnamon, salt, and 3 tbsp sugar in a blender or food processor until very smooth, about 2 minutes. Divide the butter between the prepared pans and sprinkle 1 tbsp of pine nuts over the top of each. Bake in the middle of the oven until puffed and starting getting golden, and just set, about 25 -28 minutes. Cool the puddings on a rack.
While the puddings are in the oven, toss the grapes with the remaining butter, remaining 2 tbsp sugar, and vinegar in a small shallow baking pan and let macerate. After the puddings are done and removed from the oven, increase the oven temperature to 425F. Roast the grapes in the lower third of the oven, shaking the pan occasionally, until tender but not falling apart, about 10-12 minutes. Cool the grapes until just warm, pile them generously over the puddings and serve.