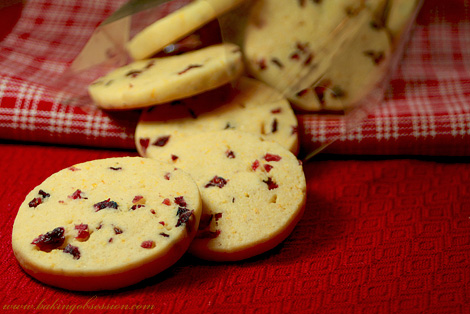 The cornmeal gives these cookies a nice crunch and the cranberries add a pleasant tartness. A word of caution – these cookies are not very sweet, not for a person with a really sweet tooth.
Ingredients:
2 cups all-purpose flour
1 cup stone-ground fine yellow cornmeal
1 tsp baking powder
1/2 tsp Kosher salt
1 ½ stick unsalted butter, room temperature
2/3 cups sugar
1 tsp vanilla extract
2 large eggs
Grated zest of 2 medium oranges
½ cups dried cranberries, finely chopped

 
Preparation:
In a medium bowl, whisk together first 4 ingredients. Combine the zest and sugar in a small bowl and rub with your fingers until sugar gets fragrant and moist. In another bowl, with an electric mixer, beat the butter until smooth, then gradually add the sugar, beating well until the mixture is light and fluffy. Beat in the vanilla and eggs, one egg at a time. With the mixer on low, gradually add dry ingredients; beat just until combined. Mix in the cranberries.
Transfer the dough to a piece of lightly floured parchment paper. Form the dough into a log, about 2 inches wide. Wrap in the parchment, twist the ends of the parchment to seal. Refrigerate until firm, at least 2 hours or longer.
Center the oven rack. Preheat the oven to 350F. Line the baking sheets with silicone mats or parchment. Cut the dough crosswise into 1/4 –inch-thick slices, turning the log over ¼ turn after each slice. Place the cookies on the baking sheet, ½ inch apart. Bake, in batches, until the cookies are firm to the touch, 12-14 minutes. They don't have to brown. Transfer the cookies to a cooling rack and cool completely.