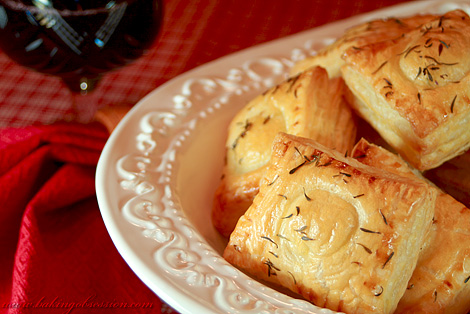 These can be served as an appetizer or as an accompaniment to a salad. I like them warm from the oven with a tomato or roasted peppers pureed soup.
Makes thirty two 2 ½ x 2 ½ – inches squares. Scale down if it's more than you need, or freeze the extra unbaked puffs up to a couple of weeks. Bake them later without previous defrosting; just add a couple of minutes to the baking time.
Ingredients:
4 sheets puff pastry (you will need two 1-lb store bought packages) or about 2 lbs of home made puff pastry
All-purpose flour for dusting
8 oz feta, crumbled
¼ cup oil packed sun-dried tomatoes, finely chopped
2 tbsp sour cream
¼ tsp freshly ground black pepper
1 egg, lightly beaten
2 tbsp fresh flat leave Italian parsley, finely chopped
1 tbsp fresh thyme leaves, finely chopped + a bit more for sprinkling over the assembled puffs
1 egg, lightly beaten for egg wash
Preparation:
In a small bowl, combine the feta, sun-dries tomatoes, sour cream, pepper, egg and herbs. Refrigerate. You can make the filling a day ahead and keep it in the refrigerator, covered.
Roll out the pastry into 10×10 square (about 1/8-inch thick) on a lightly floured or lined with parchment surface. Work with one pastry sheet at a time keeping the rest refrigerated. Cut the pastry, preferably using a pizza wheel, into four 2 ½ – inches wide strips. Chill the strips, covered with plastic, until firmed, about 10-15 minutes. Work on the rest of the dough while this one is chilling.
Take one sheet of the dough (4 strips) from the fridge. Starting 1/2 inch from one end of the strip and leaving ½ inch at the opposite end, evenly space the filling in the generous 1 tbsp mounds (use a little ice cream scoop, if you have one) on the two of the total 4 of the strips. Brush the edges and the dough between the filling mounds with some of the egg wash, avoiding dripping it on the sides. Cover with two other pastry strips and press the ends together, then press firmly between the filling mounds. Cut the strips between the mounds of filling to form squares and arrange the pastries on a parchment or silicon lined baking sheet. Refrigerate until the pastries are firm. Make more pastries with the remaining strips and filling.
You can make the puffs several hours in advance and keep them refrigerated, bake right before serving.
When ready to bake, center the oven rack, preheat the oven to 375 F. Brush the pastries with some of the egg wash avoiding excessive dripping. Sprinkle with the thyme and bake until puffed and golden, about 20 minutes. Serve warm.