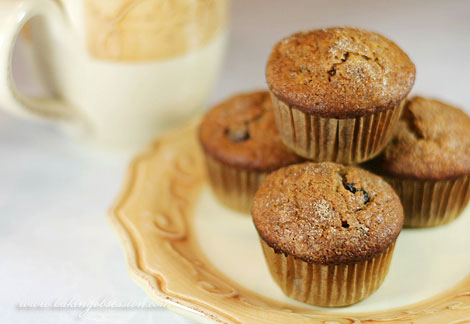 This is not a suggesting for getting rid of scary, dark-spotted, overripen bananas.
You might consider buying bananas exclusively for baking these muffins, they are sure worth it. I'm quite happy with the result of my experiments in achieving the texture and flavor I wanted.
Makes 12
Ingredients:
1 cup all purpose flour
½ cup whole wheat flour
1/3 cup granulated sugar
1 tsp baking powder
1 tsp baking soda
¼ tsp salt
1 tsp cinnamon
1 cup mashed ripe bananas (about 3 large)
1 large egg
1/2 cup (1 stick) unsalted butter, melted
¼

cup buttermilk
1 tsp pure vanilla extract
¼ cup honey
1 cup chopped semisweet or bittersweet chocolate
2 tbsp sugar
¼ tsp cinnamon
Preparation:
Preheat oven to 375°F. Line twelve muffin cups with parchment liners or just grease the molds.
In a large bowl, whisk together the flour, sugar, baking powder, baking soda, salt, and cinnamon.
In a large measuring cup or in another bowl, mix the mashed bananas, egg, melted butter, buttermilk, vanilla extract, and honey.
Stir the banana mixture into the dry ingredients just until blended (do not overmix). Fold in the chopped chocolate.
Divide the batter among the prepared muffin molds, filling each about 3/4 full.
In a small bowl, combine 2 tbsp sugar and the cinnamon. Sprinkle the tops of the muffins with cinnamon sugar.
Bake the muffins until golden and a tester inserted into a center comes out clean, about 25 minutes. Transfer the muffins to a rack. Cool for 15 minutes, unmold.
Eat them warm (the most delicious way) or at room temperature. They are the best eaten on the day they are baked.