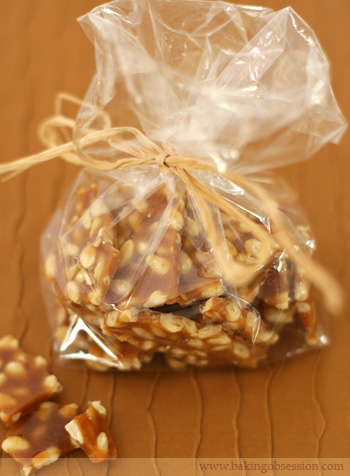 The most descriptive word for this would be "addictive". I made the crocante planning to serve it with not-yet-made ice cream in a couple of days (the crocante can be kept for up to 2 weeks – theoretically speaking). But it was all eaten the same day and I ended up making another batch of the crocante for my project…
The crocante is not teeth-breaking hard; it's very porcelain crowns-friendly :).
Adapted from "Dolce Italiano"
Makes about 2 cups
Ingredients:
1 cup granulated sugar
2 tbsp water
2 tbsp unsalted butter
2 tbsp light corn syrup
1 tsp kosher salt
1 cup pine nuts
Preparations:
Line a large baking pan or a cookie sheet with parchment, foil, or a silicone mat. Lightly grease the parchment if using. Set aside.
In a heavy medium saucepan over medium-high heat, combine together the sugar, water, butter, corn syrup, and salt. Cook, stirring, until the butter melts and the sugar dissolves, then raise the heat to high and boil without stirring, occasionally brushing down the sides of the pan with a wet pastry brush, until the mixture turns deep golden brown in color and registers 350F. Take off the heat and stir in the pine nuts with a wooden spoon. Make sure the caramel coats all the nuts. Turn the mixture out onto the prepared pan and, using a buttered heat-resistant spatula, spread it so the nuts are in a single layer. Let the brittle cool completely before braking it into pieces. Keep in an airtight container in a cool, dry place for up to 2 weeks.