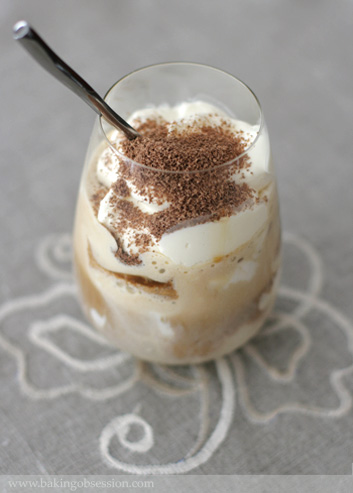 There's another, summer-influenced way to consume espresso. Well, yes, the dessert is not made from scratch (if the grinding of the espresso beans doesn't count), and can be put together within a couple of minutes or so – the time required by the espresso machine to finish its job. But who cares if the dessert is good; and this one is. The ingredients below are just for the reference. You really don't have to measure the ice cream before transferring it into the glasses. Please, eyeball everything, don't waste the energy on absolutely unnecessary steps. The dessert will turn out just fine.
Adapted from the latest "Gourmet"
Makes two servings
Ingredients:
¼ cup chilled whipping cream
1 tsp confectioners' sugar, sifted
About 2/3 cup good quality coffee ice cream
About 2/3 cup good quality vanilla bean ice cream
4 savoiardi (Italian crisp ladyfingers), each broken into quarters
½ cup freshly brewed espresso
A small piece of bittersweet chocolate.
Preparation:
Whip the cream with sugar until it just holds medium-stiff peaks. Set aside for a moment. Divide the coffee ice cream between the glasses, top with the vanilla ice cream, then put the ladyfingers over the ice cream. Pour the hot espresso on top and dollop with the whipped cream. Grate some chocolate over the cream. Serve immediately.