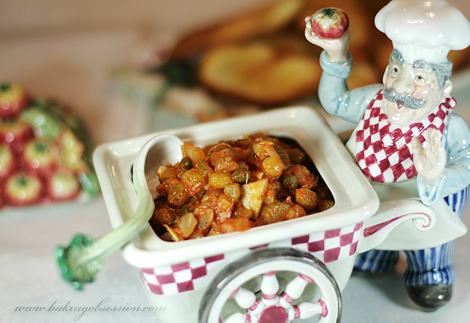 Makes about 14 servings
Ingredients:
1 tbsp extra virgin olive oil
1 cup chopped onion
2 garlic cloves, thinly sliced
1 cup chopped celery
1 cup chopped fennel bulb
½ cup golden raisins
1/3 cup white wine vinegar
3 tbs sugar
2 tbsp capers
Zest of 1 medium lemon
¼ tsp salt
¼ tsp freshly ground black pepper
1 (15-oz) can tomato sauce
1 (15-oz) can artichoke hearts, chopped
¼ cup chopped fresh flat-leaf parsley
Preparation:
Heat the oil in a large skillet over medium-high heat. Add the onion, sauté until very light golden. Add the garlic, stir for a minute, then add the celery and fennel. Sauté 5-7 minutes or until tender. Stir in the raisins and the next 8 ingredients (through the artichokes). Bring to a simmer; cook over medium-low heat until almost all liquid evaporates, about 5 minutes. Remove from the heat, stir in the parsley. Cool, then chill covered.
Serve chilled or bring to room temperature before serving. Serve with crostini.