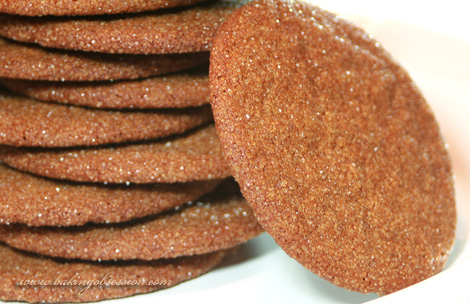 The cookies are big, sweet, mildly spiced, crisp, and crunchy but not hard. They go well with anything – milk, coffee or tea. I like to crush them over ice-cream or even yogurt. The cookies are the great keepers, they can be stored for at least 1 week in an air-tight container.
The recipe is from the never-failing "Baking – From My Home to Yours".
Ingredients:
2 ½ cups all-purpose flour
2 tsp baking soda
1 tsp Kosher salt
2 tsp ground ginger
½ tsp ground cinnamon
¼ tsp ground allspice
¼ tsp coarsely ground black pepper
1 ½ sticks (12 tbsp) unsalted butter, at room temperature
1 cup (packed) light brown sugar
½ cup molasses (not blackstrap)
1 large egg
About ½ cup granulated sugar, for rolling
Preparation:
In a bowl, whisk together first 7 ingredients.
In a large bowl, beat the butter with electrical beaters until smooth and creamy. Add the brown sugar and molasses and beat for 2 minutes or so to blend, scraping down the sides of the bowl. Add the egg and beat for 1 minute more. Reduce the mixer speed to low and add the dry ingredients, mixing until the flour and spices disappear. Finish the mixing by hand, using a wooden spoon, to avoid overbeating the dough. You'll have a smooth, very soft dough.
Divide the dough in half and wrap each piece in plastic wrap. Freeze for 30 minutes, or refrigerate for at least 1 hour. The dough can be kept refrigerated for up to 4 days.
Center a rack in the oven and preheat the oven to 350 F. Line two baking sheets with parchment or silicone mats.
Put the granulated sugar in a small bowl. Working with one packet of dough at a time, divide it into 12 pieces, and roll each piece into a smooth ball between your palms. One by one, roll the balls around in the bowl of sugar, then place them on one of the baking sheets. Dip the bottom of a glass into the sugar and use it to press down on the cookies until they are between ¼ and ½ inch thick.
Bake the cookies one sheet at a time for 12 minutes, or until the tops feel set to the touch. Remove the baking sheet from the oven and gently transfer the cookies to a rack to cool.
Repeat with the second batch of dough.