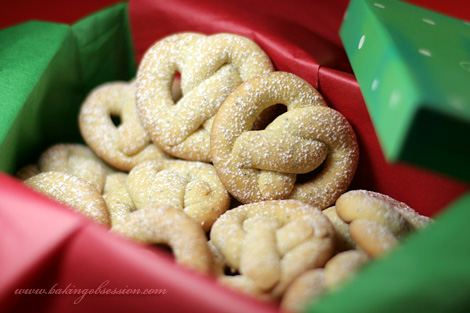 This is my variation of Nick Malgieri's recipe for Vanilla Pretzels, from his "Cookies Unlimited". The cookies are not as hard and crunchy as the most of similar shaped cookies. They even stay cakey and tender in the middle.
Ingredients:
2 ¼ cups all-purpose flour
1 tsp baking powder
1/8 tsp salt
6 tbsp (3/4 stick) unsalted butter, softened
½ cup granulated sugar
Zest of 2 lemons
1 tsp pure lemon extract
½ tsp vanilla extract
3 large egg yolks
½ cup milk
1 tbsp poppy seeds
Confectioners' sugar for finishing
Preparation:
In a medium bowl, combine the flour, baking powder, and salt.
In a small bowl, rub the sugar with the lemon zest and rub with your fingers until the sugar is moist and aromatic.
In another bowl, beat the butter with an electric mixer until fluffy, gradually add the sugar, beat until light, about 2 minutes. Beat in the extracts.
In a glass measuring cup combine the milk and egg yolks.
Add the dry ingredients (except the poppy seeds) to the butter in 3 additions, alternating with the milk mixture in 2 additions. Mix just until combined. Mix in the poppy seeds.
Wrap the dough into plastic and refrigerate for at least 3 hours.
When you are ready to bake, center an oven rack and preheat the oven to 350 F. Line a baking sheet with parchment paper. Put the lined baking sheet into another sheet to protect the bottoms of the cookies from overbrowning.
Scrape the dough onto a floured surface and divide it into 3 equal pieces. Then divide each of those pieces in half, to make 6 pieces of dough. Flour your hands, then roll each of the pieces into a cylinder. Slice each cylinder into 5 equal parts.
To shape the cookies, work with one sliced cylinder (5 pieces) at a time, keeping the rest of the dough in the fridge, covered with plastic wrap. Roll one of the pieces of dough under the palms of your hands until it forms a rope about 11-12- inches long. Fold the rope in half, twist the ends once or twice, then delicately lift the ends and attach them to the looped part of the rope. Gently transfer the cookies on the baking sheet leaving about 1-inch space all around each cookie. Refrigerate the cookies on the baking sheet for 30 minutes.
Bake the cookies for about 20 minutes, or until barely colored and firm to the touch.
Transfer the cookies to a cooling rack. Before serving, dust the cookies with confectioners' sugar. The cookies can be baked several days in advance and stored in an air-tight container.