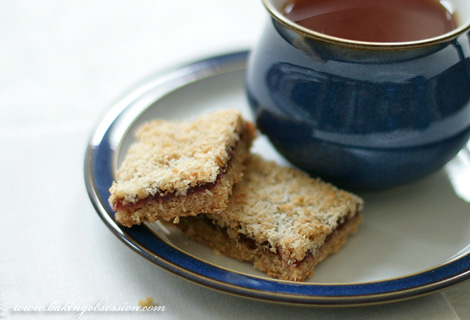 This is the recipe I often use when there's a need in a quick and full-proof dessert. All ingredients are always in my (and probably yours too) pantry. It's an absolute favorite among the children.
Makes about 24 bars
Ingredients:
1 1/2 cups unsweetened flaked coconut, divided
1 1/4 cups all-purpose flour
3/4 cup packed light brown sugar
1/4 cup granulated sugar
1/2 teaspoon Kosher salt
1 1/2 sticks (3/4 cup) cold unsalted butter, cut into pieces
1 1/2 cups old-fashioned or quick oats
1 cup seedless raspberry jam (or my favorite combination: ¾ cup raspberry jam + ¼ strawberry jam)
Preparation:
Center an oven rack and preheat the oven to 375°F. Line a 9 x 13 jelly roll pan with parchment paper extending the parchment on the long sides for easier removal the cookies from the pan.
Spread 3/4 cup coconut evenly on a baking sheet and toast stirring until golden, about 8 minutes, then cool.
In a large bowl, whisk together the flour, sugars, and salt, then add the butter and cut with a pastry blender or your fingers until a dough begins to form. Then add and knead in the oats and toasted coconut until combined well.
Reserve 3/4 cup of the dough, then press the remainder evenly into the bottom of the prepared pan (do not pack it very tightly) and spread the jam over it. Crumble the reserved dough evenly over the jam, then sprinkle with the remaining 3/4 cup (untoasted) coconut.
Bake in the middle of the oven until golden, about 25 minutes, then cool completely in the pan on a rack. Using the extending parchment transfer to a cutting board. Cut into 24 bars.
Bars can be made 3 days ahead and kept in an airtight container at room temperature.