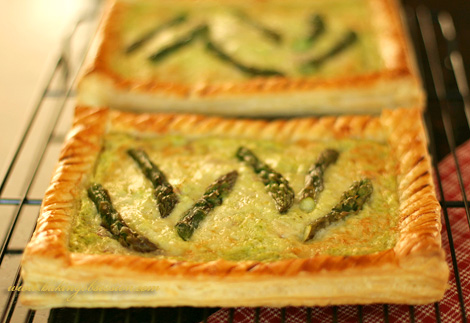 Finally the weather is getting warmer. Neither the soul nor body demand for stew for supper. Quick and flavorful tarts and quiches are replacing hearty meals. Serve a crisp-fresh green salad on a side and don't forget a glass (or two) of fine wine.
I spotted the recipe in the Bon Appetite (or may be Gourmet…) but didn't follow the exact measurements. I'm always generous with cheeses, so, I might use more than was suggested – all for the best… The tart is very, very good. And the prep takes almost no time at all.
Makes two tarts, 4 generous main-course servings, or 6 appetizer servings
Ingredients:
2 sheets good quality frozen puff pastry, thawed
egg, beaten to blend
1 pound slender asparagus spears, trimmed
1/2 cup whole-milk ricotta cheese
4 teaspoons extra-virgin olive oil, divided
about ¼ tsp Kosher salt or to taste
Freshly ground black pepper
3 ounces thinly sliced soppressata or other salami, cut into 1/2-inch pieces
about 1 1/2 cup grated Comté cheese (Gruyère can be sabstituted), divided
Preparation:
Preheat the oven to 400°F. Line a large baking sheet with parchment paper and set aside. Roll out the pastry on a floured surface to form two about 11×10-inch rectangles. Transfer to the baking sheet. Cut off 1/2-inch-wide strip from all 4 sides. Brush the strips on 1 side with some of the beaten egg, then press strips, egg side down, onto the edges of the pastry to adhere, forming a raised border. Brush the border with the egg; reserve the remaining beaten egg. Chill while preparing the filling.
Steam or blanch the asparagus just until crisp tender, about 3 minutes. Transfer to a bowl of ice water to cool. Drain. Cut off top 2 to 3 inches of the asparagus tops; set aside. Coarsely puree the remaining asparagus stalks in a food processor. Add the ricotta, remaining beaten egg, 3 teaspoons oil, salt, and pepper; process until a thick puree forms. Transfer to a bowl; stir in the salami and 1 cup Comté cheese. Spread the mixture evenly over the both pastry shells. You might think there is too much filling, but the border will rise high and enclose the filling. Just mound the filling a bit higher in the center. Sprinkle each tart with the remaining 1/2 cup Comté cheese dividing it equally between the shells.. Toss the asparagus tips with the remaining 1 teaspoon oil; arrange the tips over the filling.
Bake the tarts until the filling is set and it starts getting golden brown, about 30 minutes. Serve warm or at room temperature.