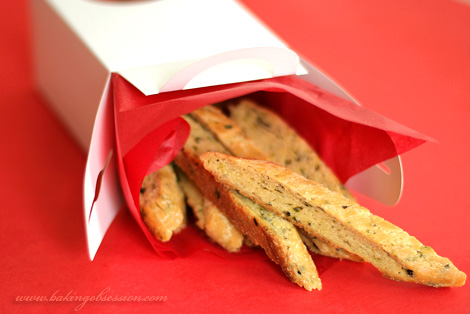 This is an adaptation of Martha Stewart's recipe. To assure the crispiness of the cookies I substituted some part of the flour for cornmeal. For the same reason, I let them dry in the turned off oven overnight (suggested baking time was not enough in achieving the crisp, dry-throughout texture). Anyway, I liked the end result – the texture was right and they tasted well.
Makes about two and a half dozens
Ingredients:
8 tbsp (1 stick) unsalted butter
2 cups all-purpose flour
½ cup finely ground cornmeal
¼ tsp freshly ground black pepper
1 ½ tsp baking powder
2 ½ tsp Kosher salt
2 large eggs
1/3 cup milk
3 tbsp extra virgin olive oil
¼ cup capers, drained, roughly chopped
Zest of 1 lemon
¼ cup finely chopped fresh flat-leaf parsley
1 large egg lightly beaten with 1 tsp water and a pinch of salt, for an egg wash
Preparation:
Place the butter in a small saucepan over medium heat. Cook the butter until it is medium brown and has a nutty aroma, 5-6 minutes. Do not allow to burn. Remove from the heat. Set aside to cool slightly.
Place the flour, pepper, baking powder, and salt in the bowl of an electric mixer fitted with the paddle attachment. Combine on low speed. Slowly add the melted butter and combine until the mixture resembles coarse meal, about 1 minute.
In a small bowl, whisk together the eggs, milk, and 3 tbsp of olive oil. Gradually pour the milk mixture into the dough and mix until just combined. Add the capers, lemon zest, and parsley, and mix to combine. Turn the dough out onto a lightly floured surface.
Preheat the oven to 350 F. Line a large baking sheet with parchment paper and set aside. Divide the dough into 2 equal parts. Roll each piece into a log about 2 inches wide and 14 inches long. Transfer the logs to the prepared baking sheet, cover with plastic wrap, and refrigerate until chilled, about 30 minutes.
Brush each log with the egg wash. Bake until are light brown and feel firm to the touch., about 45 minutes. Transfer the logs to a rack to cool, about 30 minutes. Reduce the oven to 250 F.
Using a serrated knife, slice the logs crosswise on a long diagonal into 1/3-inch thick slices. Arrange the slices cut-side down on a wire rack set over a baking sheet and bake, turning the biscotti halfway through cooking time for even browning, about an hour total. If after this time the biscotti are not completely dry and crisp, stand them upright and leave in the turned off oven overnight to dry.
Store in an air tight container at room temperature for up to 1 week.