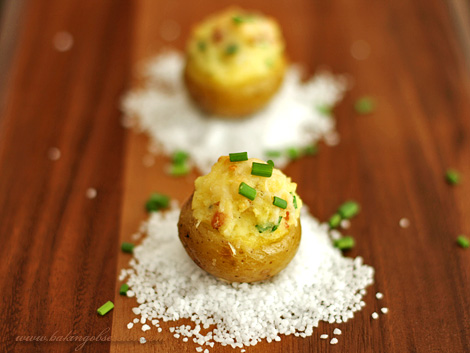 Besides being tasty, these are great because they can be made well in advance (up to two days). Just wrap and refrigerate the potatoes until you are ready to bake them the second time. Don't forget to bring the potatoes to the room temperature before baking.
Makes about 24
Ingredients:
About 24-26 Yukon Gold or red potatoes, each about 2 inches across
2 tbsp extra-virgin olive oil
2 tsp chopped fresh thyme
Kosher salt and freshly ground black pepper
4 oz pancetta, finely chopped and cooked until crispy, then drained on paper towels
6 tbsp thinly sliced fresh chives
¾ cup sour cream
½ cup grated Parmigiano-Reggiano
Preparation:
Center an oven rack and preheat the oven to 425 F. Put the potatoes on a large baking sheet and toss with the olive oil. Sprinkle with 1 tsp of the thyme, 1 tsp salt, ½ tsp pepper, and toss again. Bake the potatoes until they feel perfectly tender when pierced with a skewer, about 25 minutes. Remove from the oven and let rest until cool enough to handle, about 10 minutes. If not working ahead, increase the oven temperature to 450 F.
Carefully hollow out each potato: Begin by slicing off the top; use a melon baller or a small spoon to scoop out most of the flesh inside, transferring it to a medium bowl. Discard (or eat, they are tasty) the tops. Mash the potatoes flesh with a masher or a fork, then combine it with the pancetta , ¼ cup (4 tbsp) of the chives, the sour cream, the remaining 1 tsp thyme, ½ tsp salt, and ¼ tsp pepper. Season to taste with more salt and pepper.
Using a small spoon (small ice-cream scoop is very handy), fill the hollowed potatoes with this mixture; it should mound a bit. Sprinkle on the cheese.
Return the potatoes to the 450 F oven and bake until the filling heats through, 8 to 10 minutes. Sprinkle with the remaining chives and serve warm.