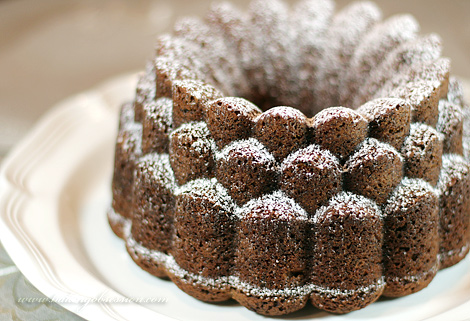 If you are like me – love everything that has poppy seeds in it, then this is definitely a recipe to try. The cake is moist, sweet and full of poppies. It gets even better in a day or too. Just keep the cake in an air-tight container or well wrapped.
This is Carole Bloom's recipe.
Makes one 9-inch round Bundt cake, 12 to 14 servings
Ingredients:
1 cup poppy seeds
½ cup honey
¼ cup water
8 oz (2 sticks) unsalted butter, softened
1 ½ cups granulated sugar
½ cup sour cream
¼ cup buttermilk
1 tsp pure vanilla extract
2 ¼ cups all-purpose flour
1 tsp baking soda
½ tsp salt
Confectioners' sugar, for dusting
Preparation:
Generously butter a 9-inch tube pan. Dust with flour. Set aside.
Center a rack in the oven and preheat it to 350 F.
Combine the poppy seeds, honey, and water in a small saucepan over medium-low heat. Cook, stirring frequently with a wooden spoon, until the poppy seeds absorb the liquid, about 15 minutes. Remove the pan from the heat and transfer the poppy seed mixture to a bowl to cool.
Place the butter in a bowl of a stand mixer or in a large mixing bowl. Use the paddle attachment to beat the butter on medium speed until it's fluffy. Gradually add the sugar, occasionally scraping down the sides of the bowl. Beat until light and fluffy.
One at a time, add the egg yolks to the butter mixture, scraping the sides of the bowl after each addition.
In a small bowl, combine the sour cream, buttermilk, and vanilla.
Sift together the flour, baking soda, and salt.
Reduce the speed to low. Add the dry ingredients in 3 stages to the butter mixture alternating with the buttermilk mixture in 2 stages, starting and finishing with the flour.
With the mixer on low, stir in the poppy seeds.
Place the egg whites in the grease-free bowl. Using a wire whip attachment, whip the whites on medium speed until frothy. Add the cream of tartar and whip on medium-high speed until the whites hold firm and glossy peaks.
In 3 stages, fold the egg whites into the batter.
Transfer the mixture to the prepared pan. Use a rubber spatula to smooth and even the top.
Bake for about 1 hour, until a cake tester comes out clean.
Remove the pan from the oven and cool on a rack for 15 minutes. Invert the pan onto the rack and unmold the cake. Cool completely on the rack.
Dust with confectioners' sugar before serving.