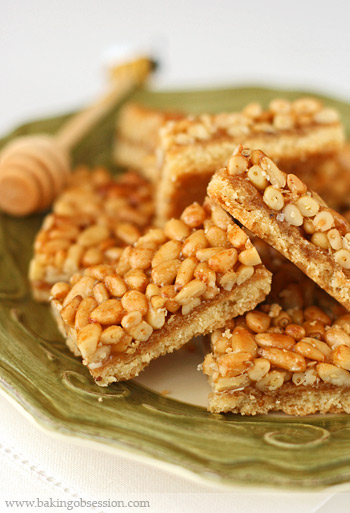 I don't just love the flavor of these nuts, I also respect their softness, their slicing cooperativeness. And there's a significant benefit from the waste-free cutting – the less trimmings and shattered pieces you have, the slimmer you are (well, I'm speaking for myself here; I do suffer from the incurable form of the C.E.T.D. (Compulsive Eating of Trimmings Disorder).
Makes 32 fingers (although, it depends on the way you cut them)
For the crust:
1 ¼ cups all-purpose flour
2 tbsp fine granulated sugar
½ tsp baking powder
½ tsp ground anise
½ tsp ground coriander
¼ tsp kosher salt
1 stick (¼ -lb; ½ cup) chilled unsalted butter, cut into ½-inch chunks
1 large egg
½ tsp pure vanilla extract
For the filling:
1/3 cup honey
¼ cup packed light brown sugar
¼ tsp kosher salt
½ stick (4 tbsp) chilled unsalted butter, cut into tablespoon portions
1 ½ cups pine nuts, lightly toasted
Make the crust:
Center an oven rack and preheat the oven to 375F. Spray a 9-inch square pan with oil and line the pan with parchment paper (the bottom and the sides). Make sure the parchment is well adhered to the pan. Set aside.
In a bowl of the food processor, pulse together the flour, sugar, baking soda, anise, coriander, and salt until combined. Add the chilled butter chunks and pulse until the mixture resembles a coarse meal. In a small bowl, lightly whisk the egg and vanilla, then drip through the processor tube while pulsing. Continue to pulse until moist crumbs form, do not overprocess. Transfer the dough onto a lightly floured surface and fold it over a couple of times to distribute the butter.
Press the dough into the bottom of the prepared pan, prick with a fork and freeze until firm, for about 15 minutes. Then bake the crust until it's light golden brown, about 20 minutes.
Make the filling, bake :
While the crust is baking, make the filling. Combine the honey, brown sugar, and salt in a medium heavy saucepan. Heat over medium heat, stirring, until the sugar dissolves and the mixture comes to a boil. Boil, without stirring, for 2 minutes. Then add the butter and boil, now stirring, for another minute. Remove from the heat and stir in the pine nuts until the nuts are coated with the honey mixture.
Pour the filling over the just baked and still hot crust and slide back into the oven. Bake until the filling is bubbling and caramelized, for about 15 minutes. Transfer the pan onto a cooling rack and cool completely before slicing.
The cookies can be kept in an airtight container at room temperature, for 1 week.