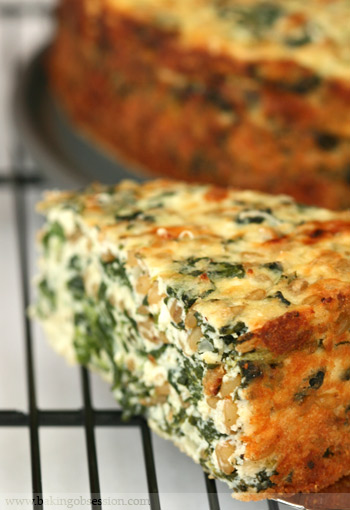 In Russian, I would have said it's a savory zapekanka. But I doubt that everyone is familiar with the meaning of this word. So, let's call it a crustless cheese pie (it could have had a crust but I decided not to bother). You can toss in any cheese combo you like or have on hand; that's what I've done here. The pie is great warm, but I don't mind eating chilled leftovers either.
In case you are wondering if I'm done with sweets for good, I can reassure you there are some sweet posts coming. I was baking too much during holidays and now I'm taking a break and enjoy cooking more.
Makes one 9-inch pie, about 12 servings
Ingredients:
1 cup wheat berries (usually available in bulk at natural/ health food section), soaked in cold water overnight
1 tbsp extra-virgin olive oil
1 tbsp butter
1 large onion, finely chopped
2 large garlic cloves, finely chopped
10 oz spinach (fresh of frozen), steamed or cooked in salted water, drained, cooled, squeezed dry
½ cup fresh flat- leaf Italian parsley, chopped
30 oz whole milk ricotta cheese (if you are making a crust for this pie, the ricotta has to be drained overnight in a cheese cloth-lined sieve; otherwise – it's not necessary )
3 oz smoked mozzarella, grated
2 oz Pecorino Romano (use Parmesan if the sheep milk cheese is not your thing ), grated, plus a bit more for the top of the pie
2 large eggs, lightly whisked
2 large egg yolks, lightly whisked
1 heaped tsp kosher salt
1 scant tsp freshly ground black pepper
½ tsp freshly ground nutmeg
About a tbsp melted butter and around ¼ cup dry bread crumbs for coating a pan
Preparation:
Center an oven rack and preheat the oven to 375F. Generously butter a 9-inch springform pan and coat the sides and the bottom with the dry bread crumbs. Set aside.
Cook the wheat berries in salted water until tender, for about 20 minutes. Rinse under cold water, drain well, and transfer to a large bowl.
In a skillet, over medium heat, sauté the onions in the olive oil and butter until the onions are soft and golden. Add the garlic and sauté for a minute, stirring. Cool slightly, transfer to the bowl with the wheat berries. Add the remaining ingredients and stir well to thoroughly combine. Transfer the mixture into the prepared springform pan, smooth the top. Sprinkle a little bit of extra grated cheese over the top. Place the springform pan onto a shallow baking/ cookie sheet and slide into the oven. Bake for 45 minutes until set, then turn the oven off and turn the broil on. Broil for a couple of minutes until the top is nicely brown. Transfer the pie to a rack, cool for 10 minutes. Then unmold. Serve warm.