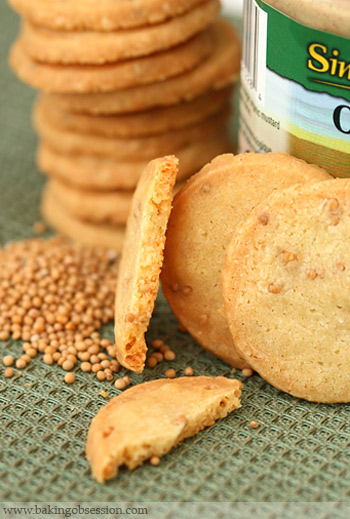 One friend of mine told me I could freeze extra cheese for later use. Maybe I should have clarified for what kind of use, because after defrosting, once perfect cheddar became … lets say … not so perfect and completely unsuitable for eating. The texture got all crumbly and the flavor changed (it didn't improve). I resisted my first impulse to throw the whole pound away and decided to salvage the cheese somehow. Generous addition of mustard seemed like just the way.
For my dear friend who recommended the freezing option (I know she occasionally reads my blog) I want to tell there are no hard feelings :) The crackers were yummy (very much so), the wine was great, and everybody was happy, eventually.
The moral of this story – do not freeze the cheese unless you are planning to use it for cooking; buy only as much as you can shortly consume.
The recipe is slightly adapted from the "Gourmet".
Makes about 10 dozens
Ingredients:
2 sticks (1 cup; ½-lb) unsalted butter, softened
1 lb sharp Cheddar, coarsely grated (preferably in a food processor; about 5 cups)
1 large egg yolk
1 tbsp Dijon mustard
2 tablespoons dry mustard
1/4 cup brown or yellow mustard seeds
2 teaspoons salt
2 cups all-purpose flour plus additional for dusting
Preparation:
Blend together the butter, cheese, and yolk in a food processor until smooth. Add the remaining ingredients and pulse until just combined. Transfer the dough (it will be very soft) to a bowl and chill, covered, 15 minutes.
Halve the dough, then shape each half into a 12-inch log on a lightly floured surface. Wrap the logs in plastic wrap or parchment paper, then chill until firm, at least 4 hours.
Center an oven rack and preheat the oven to 350°F. Line a large baking sheet with parchment paper or silicone mat.
Unwrap the logs and cut thinly (into 1/8-inch-thick slices) with a sharp knife, then arrange slices about ½-inch apart on the prepared baking sheet. Bake, in batches, until pale golden, 12 to 15 minutes. Cool the crackers on the baking sheet on a cooling rack for about 10 minutes. Then transfer the crackers on the rack to cool completely. Cool the baking sheet (run under cold water), reline with clean parchment and continue with the rest of the crackers.
The dough, once formed into the logs, can be chilled up to 1 week or frozen 2 months. The crackers, cooled completely, can be kept in an airtight container at room temperature 1 week.