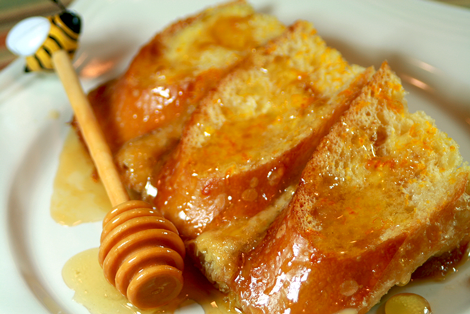 Here is a truly wonderful recipe in both taste and simplicity. You can assemble it a night before the weekend and let your family put it in the oven next morning while you are getting extra sleep. Although the aroma of this dish will likely wake you up…
Ingredients
1 tbsp light corn syrup
1 tbsp honey or maple syrup
½ cup (1 stick) unsalted butter
1 cup firmly packed light brown sugar
1 baguette, sliced into 1-inch-thick slices
6 large eggs
2 cups half-and-half
2 tsp pure vanilla extract
2 tsp Grand Marnier
Grated zest of 1 large orange
¼ tsp salt
Additional honey (or maple syrup) and sour cream or crème fraîche for serving
Preparation
Butter a 9×13-inch baking pan.
In a small saucepan combine first 4 ingredients and simmer over medium heat, stirring, until smooth. Pour the mixture into the prepared baking pan. Place the bread slices in one layer in the syrup mixture.
In a large bowl, whisk together the eggs, cream, vanilla, Grand Marnier, orange zest and salt. Pour evenly over the bread. Cover with plastic wrap and refrigerate overnight.
The next day, preheat the oven to 350 F. While the oven preheats, bring the baking dish to room temperature.
Bake the french toast for 45 minutes, or until puffy and golden. Cut into squares and serve immediately with additional honey, or a dollop of sour cream.
Makes 8 servings.
Note
The recipe can be easily scaled down in half and baked in 8-inch square Pyrex pan.