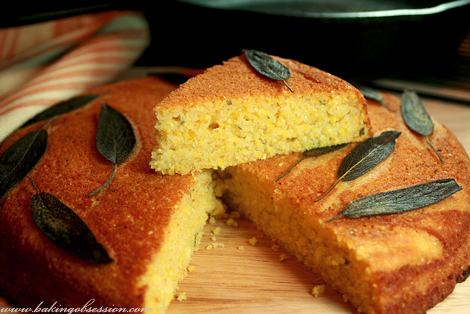 Don't be afraid to use sage in the sweet bread. The flavor is very interesting and subtle.
Ingredients
1 cup cornmeal (preferably whole grain, medium grind)
1 cup unbleached all purpose flour
1 tbsp baking powder
1 tsp salt
2 tsp chopped fresh sage plus 12 whole fresh sage leaves
1 cup whole milk
½ cup honey
1 large egg
½ cup (1 stick) unsalted butter
Preparation
Preheat oven to 400 F. Heat a heavy 10-inch-diameter ovenproof skillet (preferably cast-iron) in oven for 10 minutes.
Whisk the first 4 ingredients and 2 tsp sage in a large bowl to blend. Whisk the milk, honey, and egg in a medium bowl.
Remove the skillet from the oven; add ½ cup butter. Swirl until the butter is melted. Pour all except 2 tbsp butter into the egg mixture. Add the whole sage leaves to the butter in the skillet; toss to coat. Arrange the leaves over bottom of the skillet, spacing apart.
Add the egg mixture to the cornmeal mixture; stir until just combined.
Pour the batter over the sage leaves. Bake until browned around the edges and a tester inserted into the center comes out clean, about 22 minutes. Cool in the skillet on a rack for10 minutes. Invert onto a platter. If necessary, reposition the sage leaves atop the cornbread. Cool completely on the plate on the rack or serve warm.