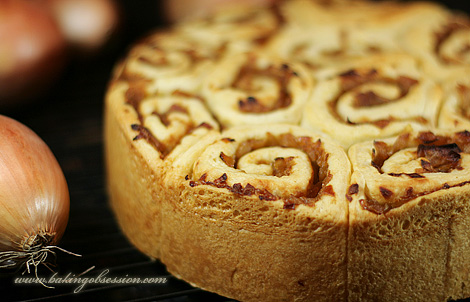 What can be more enjoyable than freshly baked, warm from the oven bread rolls. Well, these ones even come with a twist. They filled with sweet caramelized onions scented with nutmeg. And they are absolutely spectacular, in taste and appearance!
Makes about 12 rolls
For the dough:
1 stick + 1 tbsp (9 tbsp) unsalted butter, softened + 2 tbsp, melted
2 ½

tsp active dry yeast
1 tbsp sugar
2 tbsp warm water (105 to 110 F)
¾ cup buttermilk
1 large egg, lightly beaten
2 ¾ cups plus 2 tbsp all-purpose flour, plus more for dusting a surface.
1 ½

tsp salt
For the filling:
4 tbsp (1/2 stick) butter
2 lb onions (about 6 medium), 1 ½ lb cut into ¼ – inch slices, ½ lb finely chopped
About ½ tsp salt
1/8 tsp freshly grated nutmeg
Make the filling:
Melt 4 tbsp butter in a large sauté pan over medium-high heat. Add the onions, sprinkle them with some salt, and cook, stirring, until golden brown, about 45 minutes. Stir in the nutmeg, add more salt to your taste. Let cool.
Make the dough:
Butter a 9-inch round cake pan (use a spring form if you have it) with 1 tbsp softened butter. Set aside.
Put the measured 2 ¾ cups flour and salt into a bowl of a stand mixer. Make a well in the center.
In a small bowl, stir together the yeast, sugar, and water; let the mixture stand in a warm place until foamy, about 5 minutes. In a glass measuring cup, whisk together the buttermilk and egg. Stir in the yeast mixture.
Pour the buttermilk-yeast mixture into the flour. Add 6 tbsp of the softened butter and mix with a wooden spoon to combine.
Attach the mixer bowl to the mixer base, and knead on medium-high speed with the dough hook until a soft dough forms, about 8 minutes.
Scrape the dough onto a lightly floured work surface; sprinkle with the remaining 2 tbsp of flour. Knead the dough briefly until smooth. Transfer to a lightly sprayed large bowl. Cover with oiled plastic wrap; let rise in a warm place until doubled in bulk, about 1 hour.
Turn the dough onto a lightly floured work surface. With a floured rolling pin, roll the dough into a 17-by 10-inch rectangle, and smear with 3 tbsp softened butter. Spread the onions evenly over the dough leaving a 1-inch margin on one long side. Moisten the margin with water. Starting at the long side opposite the 1-inch unfilled margin, roll the dough into a log. Press to seal the seam. Cut the log into 11 or 12 slices, about 1 ¼-inch thick each. Arrange the slices, cut sides up, touching, in the buttered pan, and brush with 2 tbsp melted butter. Cover loosely with plastic wrap. Let rise in a worm place until doubled in bulk, about 50 minutes.
Meanwhile, preheat the oven to 375 F. Bake the rolls until golden brown, about 35-40 minutes. Immediately unmold the rolls onto a wire rack. Serve warm.