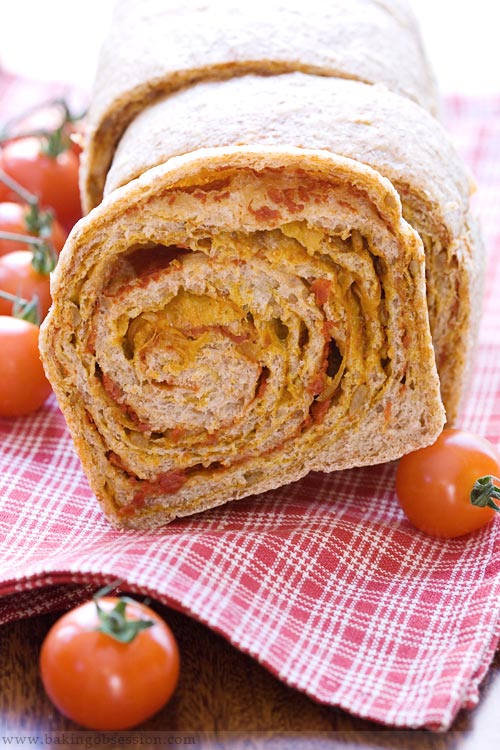 Recently, a publisher sent me a copy of Andrew Whitley "Bread Matters" book
and asked for a review if I find the book interesting enough. Now, let me jump right to the conclusion (I know, it would be more logical to do this in the end, but I'm too excited and therefore impatient). The book is wonderful!
If you are planning to dive into a warmth and comfort of home bread-baking, if you are thinking about buying a serious book to begin, trying to choose the best among dozens, let this book to be the one. You won't be disappointed. Not only the author possesses amazingly deep knowledge and understanding of the subject, he also writes so clearly and explains so thoroughly. Sourdough and leaven breads finally don't look scary at all. He offers a different approach to the care of the starter, which doesn't resemble an infant-care. Health-conscious people will find the book very valuable as the author emphasizes the importance of organic and natural ingredients, and long-fermented, low-yeast breads.
The book is wisely structured and easy to use. First chapters cover equipment, ingredients, applied methods, and troubleshooting. Then, the recipes follow. There are breads, rolls, pastries, and much more, from simple to more complex but still perfectly understandable and doable. How pleasantly surprised I was to find among these recipes traditional and very familiar Russian breads – Borodinsky, Russian Rye, Caraway Rye, as well as kulich and famous pirozhki. These are truly authentic, without any coffee or cocoa powder in the rye bread. Andrew Whitley does know what he is writing about; he lived in Russia himself and wrote warm and kindly about his experience. I personally was very touched reading it.
There's an interesting "gluten-free baking" chapter where he describes in details and nutritionally analyses flours used in gluten-free baking. The recipes are intriguing – a brown rice sourdough starter is what I'm thinking to try in the near future.
The final chapter "Growing Old Gracefully" is devoted to the utilization of stale bread. I can't help myself but repeat an old Russian proverb which is an epigraph of this chapter: "When you die, all the bread you ever wasted is weighed. If it is heavier than you, hell is your destination". My Russian readers would, probably, understand my joy to find here a recipe of kvas which doesn't call for any commercial yeast but for rye sourdough starter and Borodinsky bread.
I've just baked Andrew Whitley's the Tomato and Red Onion Bread, and its deliciousness certainly proves the author's geniality. I'm off to start my rye sourdough – I'll keep you posted.
Makes 1 large loaf (as I made) or 2 small (as author suggests)
For the tomato bread dough:
½ tsp (1g) chili powder
½ tsp (1g) turmeric
4 tsp (20g) tomato paste
1/3 cup (65g) sautéed red onions (instructions follow):
1/3 cup (50g) red onions
1 tbsp (15g) olive oil
Pinch of each salt and freshly ground black pepper
3 tbsp (35g) roasted tamari sunflower seeds (instructions follow):
3 tbsp (30g) sunflower seeds
1 tsp (5g) tamari (or soy sauce)
All amount basic savory bread dough (recipe follows)
½ cup (130g) sun-dried tomato mixture (instructions follow):
¼ cup (30g) sun-dried tomatoes
¼ cup (50g) boiling water
3 tbsp (50g) tomato paste
Make the sun-dried tomatoes mixture:
Prepare this in advance if possible. Chop the sun-dried tomatoes roughly and pour the boiling water over them. When the water has cooled, add the tomato paste, then whiz it all up in a blender, leaving a few small bits of sun-dried tomato evident in the mix. Set aside for use later. This can be made in larger quantities and stored in the refrigerator.
Sautee the onions:
Finely slice rings of a peeled onion until you have the right quantity. Heat the olive oil in a small skillet or saucepan and drop the onion rings in without breaking them up. Sweat them on a low heat, stirring occasionally. Season with the salt and pepper. When they are slightly softened but not mushy, turn off the heat, and allow to cool.
Roast the sunflower seeds:
Put the sunflower seeds on a dry baking sheet and into a fairly hot oven (400F or 200C). Roast them, stirring every few minutes, until the seeds have begun to turn color but are not burned. Remove the tray from the oven and immediately throw the tamari over the seeds and stir them around to distribute the liquid evenly. The heat should cause the seeds to soak up and become coated in the tamari. Allow the seeds to cool before adding them to the dough.
For the basic savory bread dough:
The sponge:
3g fresh yeast or heaping ¼ tsp (1½ g) active dry yeast
2/3 cup (150g) water at 68F (20C)
½ cup + 1 tbsp (75g) unbleached all-purpose flour
½ cup + 1 tbsp stoneground breadmaking whole-wheat or graham flour
The final dough:
All sponge from above (there's a possibility to make the bread with a little bit less amount of sponge and turn the leftover sponge into a leaven; instructions are in the book)
1 cup + 2½ tbsp (150g) unbleached all-purpose flour
½ cup + 1 tbsp (75g) stoneground breadmaking whole-wheat or graham flour
¾ tsp (4g) sea salt
1 tbsp (15g) olive oil
Scant ½ cup (105g) water (do determine the temperature of water use the formula: 2 x 81F (27C) minus actual flour temperature; where 81F (27C) is desired dough temperature)
Make the sponge (start at least 16 and up to 48 hours before baking):
Dissolve the yeast in the water. Add the flours and mix to a soft sponge. There is no need to mix this vigorously; gluten development by physical means is irrelevant in a dough that is allowed such a long time to ferment because naturally occurring enzymes and acids transform it anyway.
Put the sponge in a bowl with plenty of room for expansion (up to 3 times its volume) and cover with a lid or plastic bag to conserve moisture. Leave it at room temperature to ferment for 16-48 hours. During this time, the sponge will rise up and collapse. The yeast cells will multiply and lactic and acetic acids will begin to develop.
Make the final dough:
Mix all the ingredients together with a wooden spoon in a bowl of the stand mixer until combined. Knead with the dough hook on medium speed for about 5-6 minutes, until the dough is stretchy and "silky" (not so easy to detect if you are using a high proportion of whole-wheat flour). Transfer to a lightly oiled bowl, cover the bowl with oiled plastic wrap and allow to rise in a warm place for an hour or so.
This dough may be molded into loaves or rolls and baked as it is or used as a base for flavored breads (like the tomato and red onion bread).
Make the tomato bread dough, form and bake the loaf (loaves):
Grease or line with parchment a 4 x 8 inch baking pan. Set aside.
Stir the spices into the tomato paste and add the sweated onions with all the oil around them and roasted sunflower seeds. Spread the prepared Basic Savory Bread Dough (which should be nicely relaxed after an hour or so fermenting in bulk) out on the lightly floured surface, stretching it gently until it is about ½-5/8-inch (1-1½ cm) thick. Scrape the tomato, onion, and seed mixture out on top of it. Fold the dough over the wet mixture, press it out and fold again, continuing until the mix is fairly evenly distributed through the dough. Do this gently, trying to avoid tearing the dough and mashing it up into a dog's dinner. Certain streakiness in the end result is fine.
Now you can divide the dough in half and form two small loaves or form just one as I did. To do so, on the lightly floured working surface roll the dough with a rolling pin or stretch with your hands into a rectangle about 8 x 12 inches (20 x 15cm). Spread the sun-dried tomato mixture over the rolled dough, leaving a narrow line along one shorter side uncovered by any mixture. Fold this edge over and then roll the whole thing up like a jellyroll. Do this as tightly as you can. If the dough piece stretches out widthwise as you roll, curl it into an "S" shape so it will fit into the prepared loaf pan. Don't worry if some tomato mix has oozed out and is smeared randomly over the surface of the dough. This adds to the generally uneven and multicolored top crust that is a feature of this bread.
Cover the loaf loosely with oiled plastic and proof until gentle pressure with your finger meets only feeble resistance from the dough. Proofing may be slow, but the loaf should increase to about twice its original size.
Preheat the oven to 375F (190C) while the bread is proofing. Bake for about 25-30 minutes; internal temperature should be around 190F.
The recipe above is slightly adapted from the original as I was making one large loaf instead of two smaller ones.