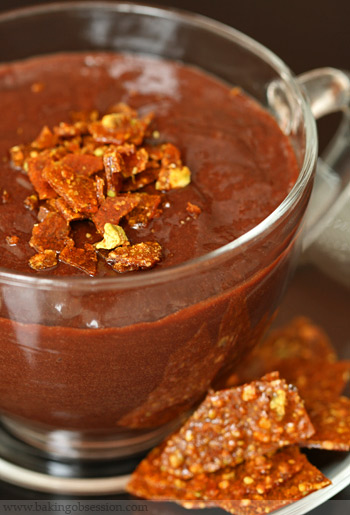 Soy pudding can be good. But it will be only as good as your soy milk is. And this is also possible, you just have to sample and find the favorite one. The flavor of the soy milk differs significantly, from brand to brand. My personal favorite is made by "Organic Valley". Unfortunately, I can't find it in Canada. We buy it in the US once in a while (a benefit of living close to the border). The "Silk" would be my second choice. The most common soy milk here in BC is "So Nice" which I find not nice at all. Is it too much trouble for a dessert that could be perfectly made from half-and-half? Well, you decide, but this is definitely a healthy alternative. I wish I could be consistent and always so health-conscious. One day I make my pudding from soy milk, another day – I deep-fry my cheesecake leftovers.
Makes about 6 servings
For the pudding:
½ cup granulated sugar
¼ cup Dutch-processed cocoa powder, sifted
¼ cup cornstarch, sifted
½ tsp kosher salt
3 cups chocolate soy milk
1 tsp pure vanilla extract
For the serving:
Make the pudding:
In a medium heavy saucepan, whisk the sugar, cocoa powder, cornstarch, and salt. Add about a cup of the soy milk, whisking until a smooth paste forms. Whisk in the remaining soy milk. Place over medium heat and stir constantly with a wooden spoon until the mixture begins to thicken. Reduce the heat to low and continue stirring until the pudding begins to simmer. Simmer, stirring, for 1 more minute. Remove from the heat and whisk in the vanilla extract.
Divide the pudding between the serving bowls or ramekins. Press plastic wrap directly against the surface to prevent a forming of the skin. Poke a few holes with a toothpick for steam to escape. Refrigerate until cold. Serve with the pistachio brittle sprinkled over the top or offer the brittle shards on the side.
The pudding can be made a day ahead and kept, covered, in the refrigerator.