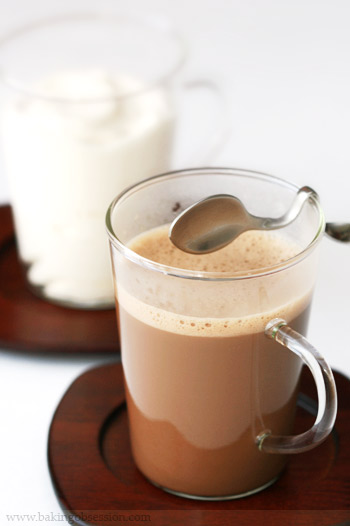 If there's time you can't decide between a cup of coffee and hot chocolate, you might consider this beverage as an option. What is it exactly? It's freshly brewed espresso diluted with milk and water, lightly sweetened, and with added cocoa. Barbagliata can be served hot during winter, or chilled and poured over ice during hot summer days. But either way, I recommend serving it with cocoa nib-infused whipped cream; it makes a world's difference.
I would say it serves 4, quite generously
For the barbagliata:
2 tbsp granulated sugar or more to taste
1 tbsp unsweetened cocoa powder, sifted
1 cup freshly brewed espresso
1 cup whole milk
½ cup water
For the nib-infused cream:
½ cup whipping cream
2 tbsp cocoa nibs
1 tsp confectioners' sugar, sifted
Grated chocolate for sprinkling (optional)
Make the whipped cream:
Before whipping, the cream has to be chilled well. So, plan ahead.
Put the cream and nibs into a small saucepan and bring to a boil over medium heat. Cover and let steep for 20 minutes. Strain the cream, discard the nibs. Once cool, cover and refrigerate the cream until cold.
Close to the serving time, whip the cream with the confectioners' sugar until stiff peaks form. Top the coffee with it.
Make the barbagliata:
Place the sugar and cocoa powder in a heavy medium saucepan. Pour the hot espresso over and whisk to dissolve the sugar. Add the milk and water. Heat over medium heat, whisking constantly, until a foam forms and the beverage is hot, about 8 minutes. Pour into tall mugs and top with the nib-infused whipped cream. Serve.