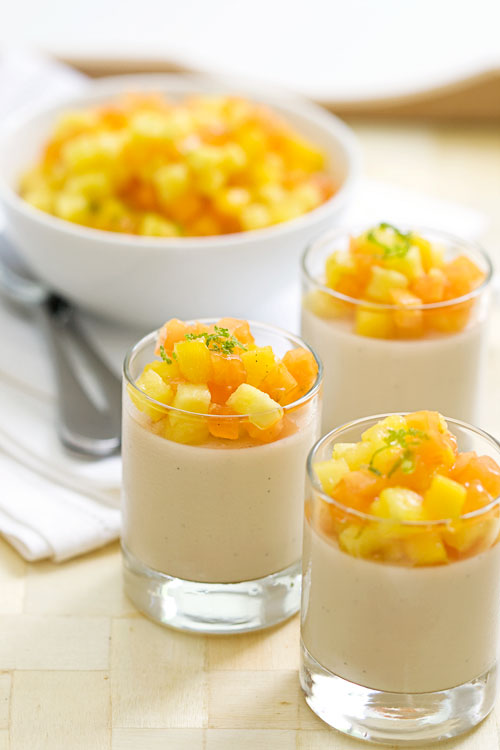 I'll better start with some explanations. I haven't abandoned my blogging, although it might recently seem like that. I am sort of on a maternity leave taking care of my new baby girl – a 10 week old Doberman puppy. She is a handful, but also an amazing joy. There's almost no sleep for me nowadays. As for the puppy, she naps briefly giving me very little time just to fix simple meals for my family and no time for baking at all. I apologize profusely for my absence here lately and for a delay in replying on your e-mails and answering the questions. I'm planning to dedicate an upcoming Saturday entirely for this purpose. And once our girl is housebroken and doesn't require constant supervision, I'll post way more often, that's my promise.
Obviously, the recipe below would suit fine people in the situation like mine – who don't have much time or/and energy for lengthy dessert preparations. The recipe makes more fruit compote than needed for a topping, but it keeps for a couple of days in the fridge and tastes great over plain yogurt for breakfast or just on its own.
For the panna cotta:
2 tbsp light rum
2 tbsp water
2 ¼ tsp powdered gelatin
400 ml coconut milk (1 can)
¼ cup packed light muscovado sugar (use more if your yogurt is very sour)
1/8 tsp salt
Seeds from ½ vanilla bean (reserve the bean)
1 ½ cups whole fat yogurt
For the tropical fruit compote:
1 cup water
½ cup granulated sugar
½ reserved vanilla bean
Zest of 2 limes
Juice of 2 limes
¼ cup white rum
1 small pineapple, peeled, cored, finely chopped
1 small papaya, peeled, seeded, finely chopped
2 ripe but firm mangoes, peeled, finely chopped
Make the panna cotta:
Pour the rum and water into a small bowl and sprinkle the gelatin over. Let soften for a couple of minutes.
Meanwhile, in a small saucepan, combine the coconut milk, sugar, salt, and the vanilla seeds. Heat over medium heat, stirring, until the sugar is dissolved and the mixture is hot. Remove from the heat and whisk in the softened gelatin; whisk until the gelatin dissolves. Set aside.
Place the yogurt in a large liquid-measuring cup (a spout will make it easier to pour later) and whisk to lighten the yogurt. Gradually, whisk in the hot coconut milk-gelatin mixture. Divide the mixture equally between 12 4-oz bowls, glasses or ramekins. Once cooled, cover with plastic wrap and refrigerate overnight.
Using a slotted spoon, pile the fruit compote over the top of each panna cotta and serve.
Make the fruit compote:
In a small saucepan, combine the water, sugar, vanilla bean, and lime zest. Heat over medium heat, stirring, until the sugar is dissolved. Take off the heat, stir in the lime juice and rum. Transfer to a lidded glass or stainless steel bowl (large enough for all chopped fruits), cool, then refrigerate until cold. Add the chopped fruits, stir gently to combine, cover, and refrigerate for at least 2 hours or up to a couple of days.