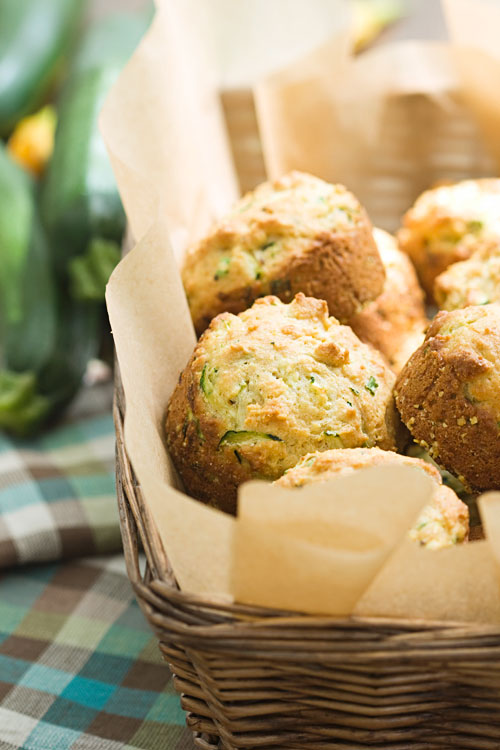 I started getting complaints from my kiddo because of the recent cease of baking. Well, there's still no time for baked sweets, but I thought these muffins, although savory, could rehabilitate me. I served them warm with a green salad and a chicken effortlessly grilled whole on a beer can. Turned out a pretty decent lunch.
Makes 12 (6 filled with cheese, 6 – with ham)
Ingredients:
1 cup fine stone-ground cornmeal + some coarse or medium-ground cornmeal for sprinkling the molds
1 cup all-purpose flour
2 tsp baking powder
½ tsp baking soda
1 tsp salt
1 tsp coarsely ground black pepper (use less if serving to toddlers)
1 ½ oz finely grated Parmesan (about 1 cup)
½ cup yogurt
¼ cup extra-virgin olive oil + more for brushing the molds
2 large eggs
1 cup coarsely grated zucchini (about 1 medium)
Generous ¼ cup finely chopped chives (or/and parsley, or about a tablespoon of finely chopped fresh thyme, rosemary – whatever you have on hand)
About 1 ½ oz fresh mozzarella, cut into 6 cubes (or use feta instead)
About 2 oz ham, cut into 6 cubes
Preparation:
Center an oven rack and preheat the oven to 375F. Brush 12 regular-size muffin molds generously with olive oil, sprinkle with the coarse cornmeal (I prefer not to use liners here, I just love a crunchy crust of these muffins).
In a bowl, whisk together the cornmeal, the flour, baking powder, soda, salt, pepper, and parmesan.
In a smaller bowl, whisk together the yogurt, extra-virgin olive oil, and eggs. Pour over the dry ingredients and stir just until combined. Stir in the grated zucchini and chives.
Spoon about 1 heaping tbsp of batter into each mold. Insert the cheese and ham cubes in the center, spoon another heaping tbsp of batter over the filling, spreading to cover the filling completely.
Bake the cupcakes for about 20 minutes, until golden brown and a cake tester inserted into the center comes out clean (well, make sure it wasn't inserted into the filling). Cool the cupcakes for 5 minutes on a cooling rack, then unmold and serve warm.