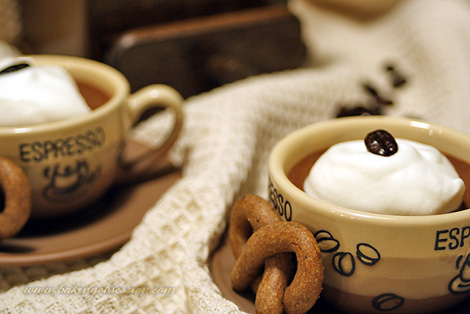 This is the easiest chocolate dessert and also the fastest to prepare. Although it needs 2 hours of chilling time. Sure, the flavor greatly depends on the quality of the ingredients, so buy excellent chocolate and you will get wonderfully tasted pots de crèmes.
A word of caution though – the eggs in this dessert are not fully cooked. I usually buy the freshest organic eggs and wash the shells thoroughly before using. But if you still have any concerns, replace the eggs with pasteurized ones.
Serves 8
Ingredients:
2 large eggs, washed, patted dry
6 oz bittersweet finely chopped
1 tsp pure vanilla extract
1/3 cup coarsely ground espresso beans
1 cup whipping cream
2 tbsp Kahlua (I usually use "Extra Strength" )
Whipped cream and chocolate covered espresso beans for garnish
Put the espresso beans and cream into a small saucepan. Bring to a boil, take off the heat, cover and let stand for a few minutes. Strain the cream through a fine mesh strainer lined with a double layer of a cheese cloth.
In a blender, blend the eggs, chocolate, and vanilla until smooth, about 30 seconds.
Slowly add the hot cream and continue blending until mixed well. Add the Kahlua, process for a moment.
Pour the custard into demitasse cups or small ramekins. Cool to room temperature, cover with plastic wrap and chill for at least 2 hours, or overnight. Right before serving, dollop the custards with the whipped cream and the chocolate coffee beans.
They are very nice served with crunchy cookies like Espresso Pretzels.