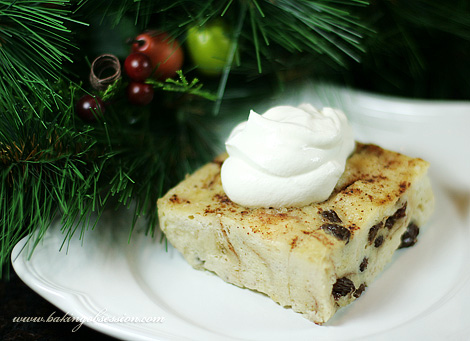 The least thing you want to do on Christmas morning or morning after New Year celebration is to cook. I hate the whole idea of spending hours in the kitchen rather than being with my family and sharing my son's excitement and happiness after unwrapping all the presents. So, I just praise the recipes that allow you to cook or bake in advance.
This pudding is among them. And it tastes really good too.

Serves 10 to 12
Ingredients:
6 cups torn-up pieces of day-old home-baked or high quality store-bought raisin bread, crusts removed
3 ½ cups eggnog (If you can find organic eggnog, made from real egg yolks, by all means, spend an extra buck and buy it.)
3 large eggs
2 large egg yolks
½ cup sugar
3 tbsp brandy
3 tbsp dark rum
About 1/2 tsp freshly grated nutmeg
Whipped cream for serving
Preparation:
Butter a 13×9-inch baking dish.
Put the bread in a large bowl. Pour the eggnog over the bread and allow to soak for about 1 hour, or until all the liquid is absorbed.
Center a rack in the oven and preheat the oven to 350 F.
In a bowl, or a glass measuring cup, whisk together the eggs, yolks, sugar, brandy, and rum until thick and smooth. Pour over the bread cubs, stir to combine. Transfer the mixture into the baking dish. The pudding can be made a day ahead up to this point. Cover it with plastic wrap and refrigerate. Let it stand at room temperature while preheating the oven. Sprinkle the top with the nutmeg. Place the dish in a large roasting pan, lined with a dish towel. Place the roasting pan on the oven rack, and pour enough hot water into the larger pan to come halfway up the sides of the pudding dish.
Bake the pudding for about 45 minutes, or just until the center is set when gently shaken. Transfer the pudding dish to a cooling rack and cool slightly. Serve with the whipped cream.
Maybe I'm being weird here, but I like cold, refrigerated leftovers too (probably, even more… but don't tell anyone…)