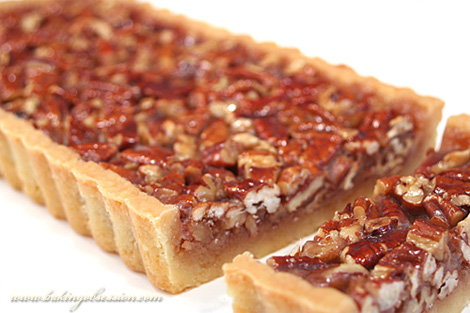 More a confection than a pastry; it screams out loud for a double shot of espresso. The tart is seductive and rich. Serve it thinly sliced. If you wish you can substitute all or part of the pecans for walnuts.
Makes one 9-inch round or long rectangular 3×14-inch tart, 10 to 12 servings
For the crust:
½ cup (1 stick) unsalted butter, at room temperature
¼ cup sugar
1 large egg yolk
1 ½ cups all-purpose flour
1/8 tsp salt
For the filling:
1/3 cup honey
1/3 cup maple syrup
1/3 cup (packed) golden brown sugar
1/8 tsp salt
¼ cup whipping cream
3 tbsp unsalted butter
½ tsp vanilla extract
1 2/3 cups toasted and coarsely chopped pecans
Make the crust:
Preheat the oven to 350 F. Butter a 9-inch round or long rectangular 3×14-inch tart pan.
Using an electric mixer, beat the butter, sugar, and egg yolk in a bowl just until blended. Add the flour and salt, beat until moist clumps form. Press the dough into the bottom and up the sides of the pan. Put the tart pan on a baking sheet. Bake until the crust is golden, about 20 minutes. Cool in the pan on a rack. Maintain the oven temperature.
Make the filling: 
Combine the maple syrup, honey, brown sugar, cream, and salt in a medium saucepan. Bring to a boil, stirring until the butter melts and the mixture is smooth. Boil for 30 seconds. Remove from the heat, stir in the vanilla, then nuts.
Pour the filling into the cooled crust. Bake until the filling is bubbling in the center, about 15 minutes. Cool the tart in the pan on a rack. Unmold.  Chill for 2 hours before cutting. The tart can be made 3 days ahead. Keep covered in the refrigerator.