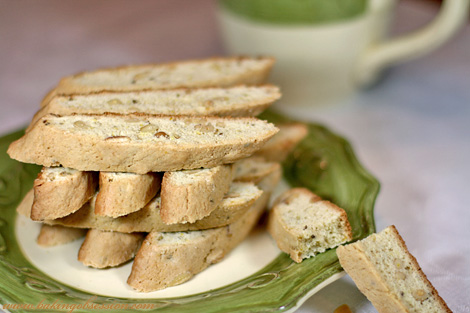 I just love them. The texture is a perfection, these biscotti are crunchy but not teeth-breaking hard, and very aromatic. You might be tempted to add more flour to the dough, but don't do so, or the cookies will be tough. The biscotti can be stored in an airtight container for up to a month (which is only possible if you forget where you put your airtight container).
The recipe is from Lori Longbotham's "Luscious Lemon Desserts"
which is overloaded with delicious recipes.
Makes about 3 dozens.
Ingredients:
¾ cup pine nuts
1 ½ tsp aniseed
1 cup sugar
Zest of 6 medium size lemons
2 cups all-purpose flour
1 ½ tbsp ground coriander (this is not a mistake, don't be a chicken, put all the coriander required)
1 tsp baking powder
¼ tsp salt
¼ cup (1/2 stick) unsalted butter, at room temperature
2 large eggs
Preparation:
Center the oven rack. Preheat the oven to 350 F. Line a large baking sheet with a parchment paper or silicon mat.
Toast the aniseed in a small skillet, shaking the pan, over medium heat for a couple of minutes, until fragrant.
Rub the sugar and lemon zest in a small bowl until the sugar gets moist and aromatic.
Sift together the flour, coriander, baking powder, and salt into a medium bowl.
Beat the butter and the sugar mixture in a medium bowl with an electric mixer until fluffy. Add the eggs, one at a time, beating well after each addition. Reduce the speed to low, add the flour mixture and the aniseed, and beat just until blended. Stir in the pine nuts with a spoon or rubber spatula.
Halve the dough and place both portions on the prepared baking sheet. Quickly form each piece into 12-by-1-inch log, and place them at least 3 inches apart. Smooth the logs with dampened fingers.
Bake for 35 minutes, until the logs are golden brown and cracked on top. Cool on the baking sheet on a wire rack for 10 minutes. Reduce the oven temperature to 325 F. Transfer the logs to a cutting board and with a sharp serrated knife, cut each log into ½-inch slices. Arrange the slices standing them on their bottoms on the same baking sheet and return to the oven for about 15 minutes, until crisp. Let cool on the wire rack.