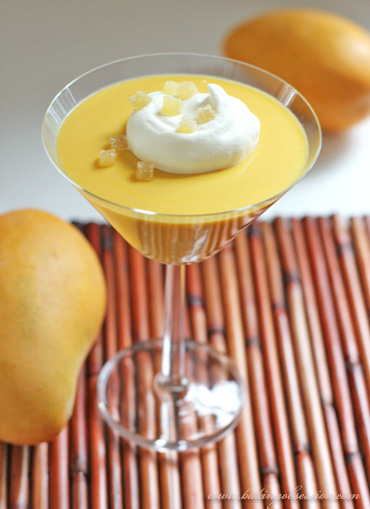 If I didn't cook from the books I buy in such abundance there wouldn't be any excuses for my compulsiveness, at least in my husband's eyes. But since I use the books I purchase, everybody is happy. Especially when a dessert turns out so wonderfully flavorful, creamy, refreshing, and eye-appealing. The pudding recipe is from Sherry Yard's "Desserts by the Yard". I must emphasize it is ridiculously easy to make, and highly addictive. Two of us gobbled up a couple of servings each and only the finally woken up consciousness forced us to stop and leave some for our kid to try. He loved it too, he ate the pudding for his breakfast next morning with very impressive enthusiasm.
I'm submitting the mango pudding photo as an entry to "Click-Yellow for Bri", a special edition of a monthly theme-based photography contest in honor of Briana Brownlow, hosted by Jugalbandi.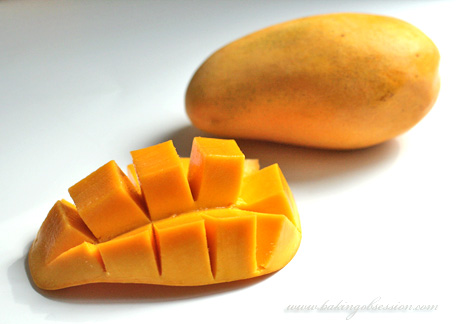 Serves 6
Ingredients:
½ cup cold water

2 ¼ tsp powdered gelatin

1 cup heavy cream, divided (1/2 cup will be whipped and used for serving)

¼ cup sugar

½ cup sweetened condensed milk

2 cups mango puree (about 3 large ripe mangoes, peeled, diced, and pureed)

2 tbsp fresh orange juice

1 tbsp fresh lemon juice

Pinch of salt

2 tbsp finely chopped crystallized ginger, for serving
Preparation:
Pour the cold water into a bowl and sprinkle on the gelatin. Allow to soften for 2 minutes.
Combine ½ cup of the heavy cream and the sugar in a small saucepan and bring to a boil. Remove from the heat, add the gelatin mixture, and whisk together until the gelatin has completely dissolved. Whisk in the condensed milk, mango puree, orange juice, lemon juice, and salt. Strain into six 6-oz glasses or bowls, cover, and chill in the refrigerator.
Using a hand mixer, whip the remaining ½ cup heavy cream to soft or medium peaks, as desired. Just before serving, top the pudding with some whipped cream and sprinkle with the crystallized ginger.