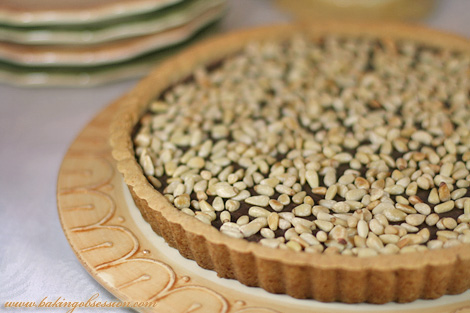 The crust is absolutely perfect, crisp and very tender at the same time, with a distinct pine nut flavor. The filling is creamy and chocolaty (make sure to use a good quality chocolate) with a subtle tanginess from the cheeses.
This is Giada De Laurentiis' recipe with some of my alternations. She certainly knows what's what in Italian cuisine.  
Makes one 11-inch diameter tart, about 12-14 servings
For the crust:
1 ½ cups all-purpose flour
2 tbsp cornmeal
¾ cup pine nuts, toasted
¼ cup sugar
¼ tsp Kosher salt
1 stick (4 oz, 8 tbsp) unsalted butter, melted and slightly cooled
For the filling:
½ cup sugar
½ cup water
8 oz semisweet chocolate, chopped
¾ cup ricotta cheese
4 oz (half package) cream cheese, at room temperature
1 large egg
3 large egg yolks
1 tsp pure vanilla extract
¾ cup toasted pine nuts for sprinkling over the filling
Make the crust:
Lightly butter the 11-inches tart pan with a removable bottom.
Process the flour, cornmeal, ¾ cup of the pine nuts, ¼ cup sugar, and salt in a food processor until finely ground. Add the butter and pulse just until the dough forms.
Press the dough into the tart pan. Freeze the crust until it's firm, for about 30 minutes. Or you can wrap it tightly after 30 minutes and freeze for up to a month. There's no need to defrost the crust before baking.
When you are ready to bake, center the oven rack. Preheat the oven to 350 F.
Put the tart pan on a baking sheet. Line the tart crust with aluminum foil, shiny side well buttered and facing down.
Fill the tart shell with pie weights or dried beans. Bake the crust for 25 minutes, until set. Very carefully remove the foil and pie weights. Bake the shell until golden, about 15 minutes longer. Cool completely.
Make the filling, assemble the tart:
Combine ½ cup of sugar with ½ cup of water in a small saucepan. Bring to a boil, stirring until the sugar is dissolved. Cool the sugar syrup until it's warm to the touch.
Melt the chopped chocolate in a microwave or in a double boiler over barely simmering water. Set aside.
Pulse the ricotta and cream cheese in a food processor until smooth. Whisk the egg, egg yolks and vanilla in a spouted measuring cup. With the processor running, add the egg mixture to the cheese in a thing stream. Add the melted chocolate and pulse to combine.  Add the sugar syrup in a same manner you added the eggs, process until smooth.
Pour the filling into the tart shell and bake until the filling is almost set, for about 20 minutes. Scatter ¾ of the pine nuts on top of the filling and bake for 10 minutes longer.
Cool the tart completely on the rack.
The tart can be kept up to 3 days in the refrigerator, tightly covered. Bring to the room temperature before serving. Slice the tart with a hot dry knife.