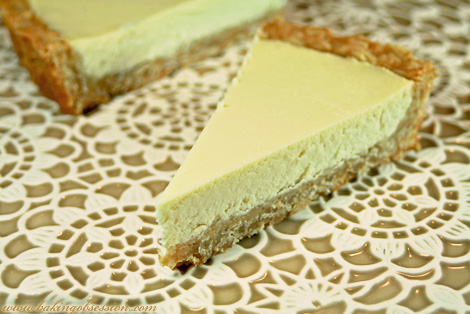 What can be simpler? The filling is just the fresh cheese, eggs and a bit of sugar. The crust is buttery and crunchy, and full of nutritious oats. You don't have to roll the dough, just press it into the pan. Nothing is complicated here, use the best quality ingredients and you will sure have a winner.
Makes one 10-inch diameter tart, about 12 servings

For the crust:
½ cup (packed) light brown sugar
1 cup old-fashioned oats
1 cup all-purpose flour
½ tsp baking powder
½ tsp salt
1 stick (1/2 cup) unsalted butter, melted and cooled



1 egg, beaten, for sealing the dough
For the filling:
1 lb curd cheese
3 eggs
½ cup sugar
¼ tsp Kosher salt
1 tsp pure vanilla extract
Make the crust:
Lightly butter the tart pan with removable bottom.
In a bowl stir together the dry ingredients. Add the butter, stir to combine. Press the mixture evenly into the pan and chill or freeze it to settle dough, for about 15 minutes.
Preheat the oven to 325 F. Put the tart pan on a baking sheet and bake for about 20 min, until it is set and pale golden. Brush the bottom with the beaten egg, then bake again for about 5 minutes until set and shiny to prevent the crust from becoming soggy.
Make the filling:
Make the filling while you are baking the crust.
Press the curd cheese through a fine-mesh strainer into a medium bowl. In another bowl or a large measuring cup lightly whisk the eggs, sugar, salt and vanilla. Add the eggs to the cheese and mix with a wooden spoon to combine, don't whisk the mixture.
Pour the filling into the hot crust and spread evenly. Bake the tart for about 25 minutes, until it's barely set and still jiggles when you move the pan. Cool the tart on a rack. Unlike the most cheesecakes you can eat this one as soon as it is cooled. Or refrigerate it up to 2-3 days.