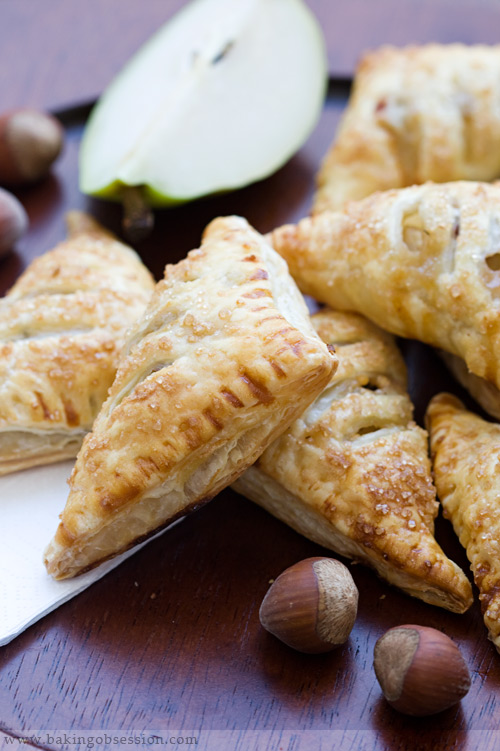 This is both a dessert and cheese course in one. Although my son declared they were the best when eaten with wild mushroom soup as a bread substitute. He's got quite a taste for an 8-year old.
Makes 18
Ingredients:
2 large pears, peeled, cored, finely chopped
2 tsp fresh lemon juice
¼ cup raw sugar
1/3 cup dry cranberries
1/3 cup finely chopped hazelnuts
3 oz Gorgonzola, crumbled
1 tsp finely chopped fresh thyme
1 egg beaten with 1 tbsp water for egg wash
Coarse raw sugar for sprinkling
Preparation:
Center the oven rack and preheat the oven to 375F. Line two large baking sheets with silicone mats or parchment paper.
In a small bowl, combine all filling ingredients.
On a lightly floured surface, roll out half of the puff pastry (keep another half refrigerated) into a square about 11×11-inches. Trim the edges to get a perfect 10×10-inches square. Using a pizza wheel, make two vertical and two horizontal cuts through the equal intervals to get 9 smaller squares. Spoon about a tablespoon of filling in the center of each square, brush two edges with a little bit of egg wash and fold the pastry over to make a triangle. Press the edges well to seal. Transfer to the prepared baking sheet. Chill for about 20 minutes before baking. Meanwhile, work on the other half of puff pastry. Once chilled, brush the triangles with the egg wash being careful not to drip any excess onto the baking sheet (it will prevent proper rising), sprinkle with some coarse sugar, make small holes on the top of each turnover for steam to escape, and bake for about 25 minutes, until puffed and golden brown. Cool on a rack until warm and serve.