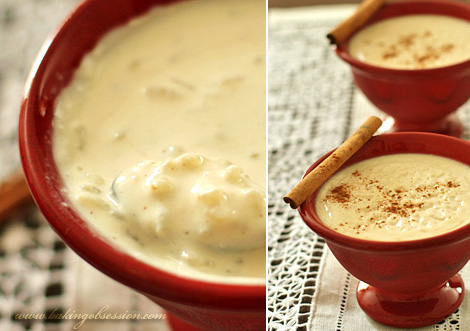 Recently, I discovered two wonderful blogs: Bakerette and Cannelle et Vanille devoted to baking and dessert making. Their photos is pleasure to look at as well as the well-written stories to read. My eyes were caught by the rice pudding posts, and I had been salivating ever since. It felt exactly like my type of dessert. I had to make it, so I did. Was it good? It was great! My little son, when I asked him if he liked the pudding, answered with a long lasting "mmmmm". Such an easy way to make mommy happy. Basma, Aran, thank you very much for the recipe. And special thanks to Basma for her suggesting to serve the pudding with the ice cream. I served it with the cocoa nib ice cream sprinkled with extra nibs over the top – what a delight!
I didn't print the recipe before proceeding (the internet was out), I relied on my memory during the cooking. It turned out more like Aran's, I guess. But I used half of the single cream and half of the whole milk as per Basma's suggestion. Using either recipe, you can't go wrong with it.
Makes about 8 servings
Ingredients:
1 liter of whole milk

1 liter of half-and-half

1 cinnamon stick

½ tsp salt

½ cup granulated sugar

2/3 cup short grain rice (like Arborio)
Note: I used organic ingredients (that's what we always buy). Regular stuff can be substituted. Although, I think, the quality of the dairy really matters in the recipe like this.
Preparation:
Put the cream, milk, cinnamon stick, and salt into a large, heavy-bottom saucepan. Bring it to a boiling point over medium-low heat. Add the sugar and rice, stirring. Reduce the heat to low and cook, stirring often, at very low simmer, until the mixture turns light caramel color and slightly thickens. It takes about 1 hour – 1 hr 15 minutes.
Take the pudding off the heat. Pour into the serving bowls or jars with lids (for keeping).
If you don't like a skin forming on the top of the pudding, press plastic wrap directly against the surface. As for me, I love this. Cool to room temperature. Then chill for at least 1 hour. Serve chilled, sprinkled with additional freshly grated cinnamon, nuts, or cookie crumbs. Or serve it with a scoop of ice-cream (vanilla, for example; or cocoa nib ice cream, as I did). Store the pudding for up to a week in the refrigerator.