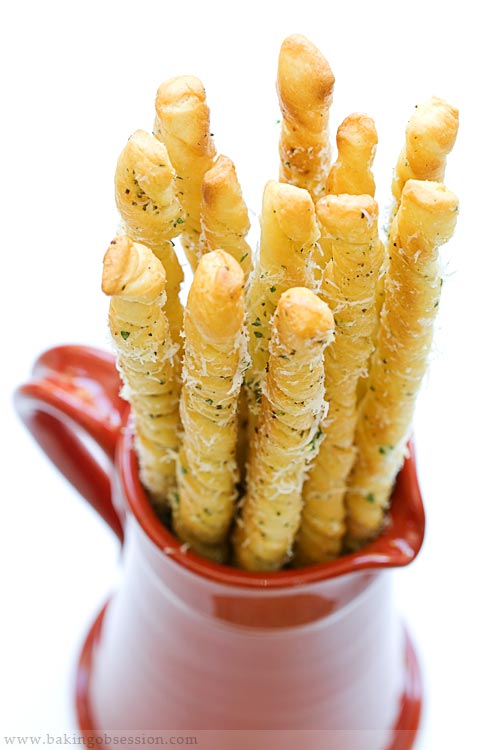 Haven't we all tried tasteless extra-chewy bread sticks in restaurants and at parties? I've had my share. Without false modesty, I can assure you these twists are better. And the difference is called forth by a generous amount (and I mean GENEROUS) of fresh herbs, garlic, parmesan, and good quality extra-virgin olive oil.
Makes 24 18-inch long bread twists
Ingredients:
2 cups warm water
1 tbsp active dry yeast
½ tsp sugar
2 ½ tbsp extra-virgin olive oil
735 g all-purpose flour
2 tsp sea salt
1 cup lightly packed grated parmesan cheese
About 2 tbsp finely chopped fresh thyme
About 2 tbsp finely chopped fresh rosemary
½ tsp sea salt
½ tsp freshly ground black pepper
½ cup extra-virgin olive oil
4 large garlic cloves, finely minced or put through garlic press
Extra parmesan (about another cup) to be grated over hot, just baked twists
About ½ cup finely chopped Italian parsley
Sea salt
Freshly ground black pepper
Preparation:
First, make dough; it can be prepared in advance and kept refrigerated for a couple of days.
In the mixer bowl, combine the warm water, yeast, and sugar. Cover the bowl; place it into a warm place for 10 minutes, until the yeast mixture is foamy. Stir in the olive oil. Whisk together the flour and salt and then gradually add to the yeast mixture, stirring with a wooden spoon until combined. Attach the bowl to a stand mixer fitted with the dough hook and knead at medium speed for 4 minutes. The dough should clear the sides of the bowl, be soft and slightly sticky. Transfer the dough into a large, lightly oiled bowl, cover with plastic wrap and place into a warm place to rise, for about 1 ½ hours or until doubled. After this, you can punch the dough down and keep it covered in the refrigerator for 2 days. Bring to room temperature before rolling and forming the twists.
While the dough is rising, combine the parmesan, thyme, rosemary, salt, and pepper. Set aside.
In another bowl, combine the olive oil and garlic. Set aside as well.
Center an oven rack and preheat the oven to 400F. Line two large baking sheets (at least 18-inch long) with parchment paper or silicone mats.
Divide the dough in half. Keep one portion covered with oiled plastic, while working on another one. On a lightly floured surface, roll out the dough into a large rectangle about 1/8-inch thick (roughly 10X15-inch). If the dough resists to rolling, cover it and let relax for 10 minutes, and then continue. Evenly, crosswise, sprinkle the half of parmesan-herb mixture over the half of the rolled dough, then fold the free dough over (like a book) and press the edges to seal. Roll it again to a rectangle, approximately the same size as before. Using a pizza wheel, cut the rolled dough lengthwise into quarters, then cut each quarter lengthwise into 3 long strips (12 strips total). Twist each strip and transfer to the prepared baking sheet, leaving about ½-inch between them. Brush the twists with the garlic-infused oil and let rest for 10 minutes before baking. Bake the twists in batches until nicely brown, for about 25 minutes. As soon as you remove the twists from the oven, brush them generously with the garlic oil, grate the parmesan over, sprinkle some fresh chopped parsley, salt, and pepper. Place the baking sheet with the twists on a cooling rack to cool completely or enjoy warm. Repeat with the second portion of the dough.