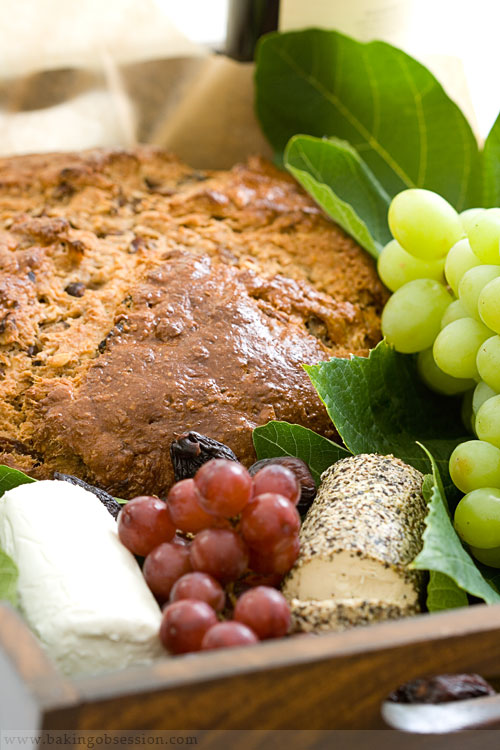 It took me a lot of willpower to stop eating this bread. It was so good freshly baked, still a bit warm, eaten with fresh goat cheese, especially with the peppery one. The apricots I used were unattractive unsulfured organic fruits, which differ significantly in both price and flavor from the regular supermarket variety. But, in my opinion, their super-sweet deliciousness is well-worthy the extra money spent.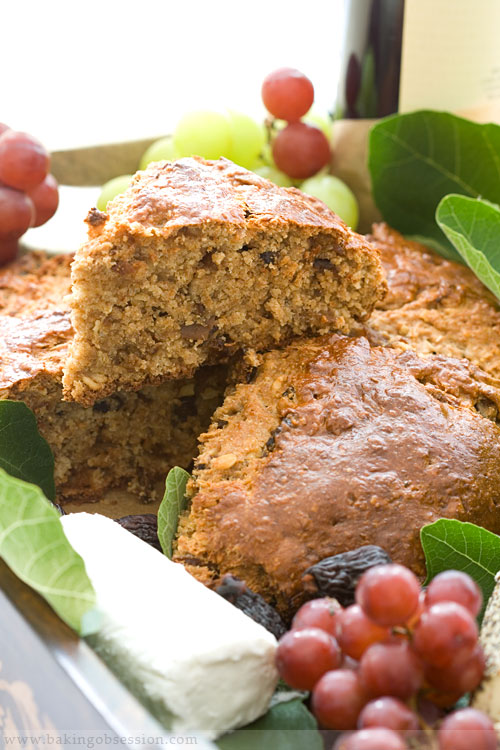 Adapted from the Bon Appetit
Makes one large round loaf
Ingredients:
1 oz dried porcini mushrooms, rinsed and coarsely chopped
1/3 cup diced organic dried apricots
1/3 cup diced dried black mission figs
½ cup warm water
1 ¾ cups buttermilk
1 cup old-fashioned oats
½ stick (55g) unsalted butter, melted
¼ cup honey
2 cups all-purpose flour
1 ¼ cups whole wheat flour
2 tsp kosher salt
2 tsp baking powder
1 tsp baking soda
1 egg, lightly beaten (for glaze)
Preparation:
Center an oven rack and preheat the oven to 375F. Line a baking sheet with parchment paper.
In a medium bowl, combine the mushrooms, apricots, figs, and water. Cover with plastic wrap and let stand until the mushrooms and fruits are softened and the liquid is absorbed, at least 30 minutes and up to several hours.
In a large bowl, combine the buttermilk, oats, and melted butter. Let stand until the oats soften, about 15 minutes. Stir in the mushrooms and fruits into the oat mixture. Stir in the honey.
In another large bowl, whisk the flours, salt, baking powder, and baking soda. Make a well in the center; add the oat mixture and stir with a fork until dough forms, gradually mixing in the dry ingredients. Turn the dough onto a very well-floured surface (it is quite wet and sticky) and knead gently, about 5 turns. Shape the dough into a 7-inch round loaf. Transfer to the prepared baking sheet. Cut a1-inch-deep X on the top of the loaf. Brush the loaf with the egg glaze.
Bake until the bread is cooked through and a tester inserted into the center comes out clean, about 1 hr-1hr 10min. Cool on a rack. The bread can be made 1 day in advance and kept, tightly wrapped in foil, at room temperature. Although, it's absolutely the best slightly warm, eaten with fresh goat cheese.