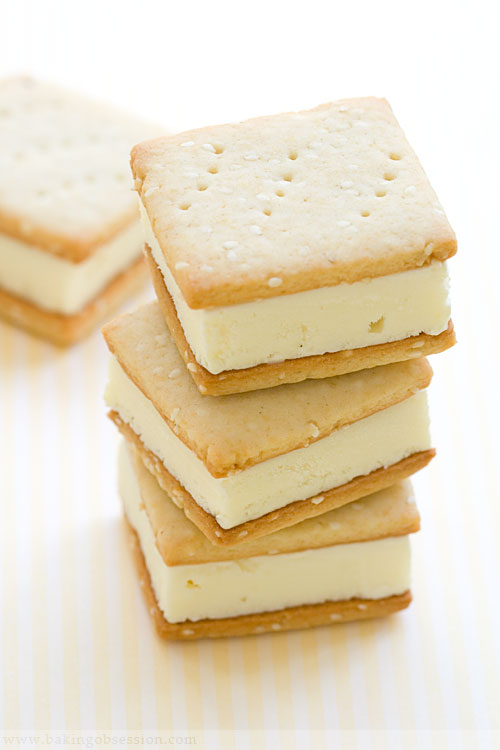 I had a little bit of mascarpone cheese left over – not enough to fill a tart or a cake. So, I put it in the fridge and forgot about it. The poor cheese spent there a few days too long and, when discovered, it was suitable for baking purposes only. So, I made some cookies. They turned out quite yummy. They also behaved well as the ice cream sandwiches – neither became too hard nor lost their crispiness once frozen.
I apologize for the recent lack of posts and some unanswered e-mails. We are on vacation. We've just returned from one trip and now planning another one. Hopefully, everything will return to normal pace as soon as the school year starts. Thank you, everyone, for the lovely comments you have left! I greatly appreciate it.
Makes about 2 dozen sandwiches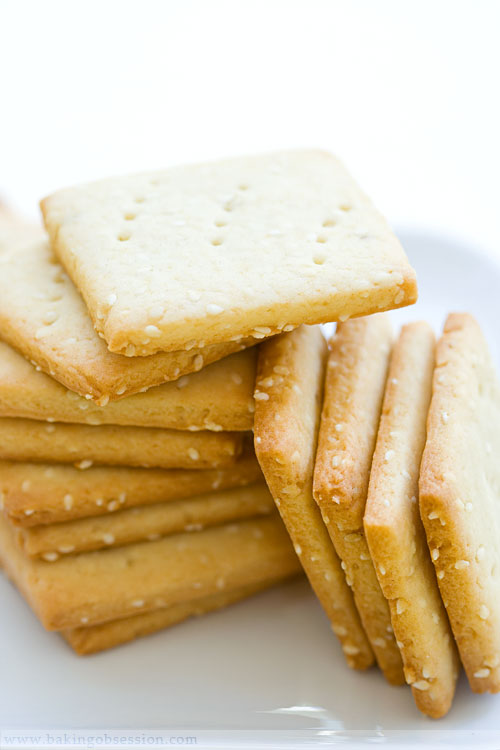 For the cookies:
2 ½ cups all-purpose flour
½ tsp baking powder
¼ tsp baking soda
¼ tsp salt
1 stick (113g) unsalted butter, at room temperature
¾ cup granulated sugar
4 oz mascarpone cheese, at room temperature
1 tsp pure vanilla extract
1 large egg
1/3 cup sesame seeds, lightly toasted
For the lemon ginger ice cream (Sherry Yard's recipe):
2 cups lemon curd (homemade preferred), cooled
2 tbsp fresh ginger juice (grate ginger root in a strainer, press out juice)
1 ½ cups whole milk, cold
1 cup heavy cream, cold
2 tbsp fresh lemon juice
Pinch of salt
Make the cookies:
In a medium bowl, whisk together the flour, baking powder, baking soda, and salt. Set aside.
In another bowl, using an electric mixer, beat the butter until fluffy. Gradually beat it the sugar and continue mixing until light and well combined. Beat in the mascarpone cheese, followed by the vanilla extract and the egg. Add the dry ingredients and mix on low speed just until the dough forms. Stir in the sesame seeds.
Divide the dough in half and shape each portion into ½-inch-thick rectangle or square, wrap in plastic, and refrigerate at least 3 hours and up to 1 day. Let the dough soften slightly at room temperature before rolling out.
Center an oven rack and preheat the oven to 350F. Line cookie sheets with parchment paper or silicone mats. Set aside.
On a lightly floured surface, roll a half of the dough to 1/8-inch thickness. Trim the uneven edges and, using a pizza wheel, cut the rolled dough into more-or-less equal rectangles (or squares). Place the cookies onto the prepared baking sheet, spacing them about 1/2-inch apart, cover with parchment or plastic, and refrigerate for 20 minutes before baking.
Bake, in batches, for about 14-16 minutes, until the edges start turning golden. Cool the cookies on the sheet on a cooling rack. The cookies can be kept up to a week in an air-tight container at room temperature.
Make the ice cream:
Whisk together the lemon curd and ginger juice in a large bowl. Whisk in the milk, cream, lemon juice, and salt. Transfer to an ice cream machine and churn, according the manufacturer's instructions.
Line a rimmed baking sheet with plastic wrap. After the ice cream has been churned, spread it in about 2/3-inch thick layer over the plastic-lined sheet. If your sheet is too large, use aluminum foil, folded several times, as a spacer. Freeze the ice cream until firm. Cover with plastic wrap.
Assemble the sandwiches:
Transfer the frozen ice cream slab onto a cutting board. Cut the ice cream slab into rectangles or squares to match the cookies' size. Dip a sharp knife into hot water and wipe it dry before each cut. Place the ice cream squares between two sesame cookies and return the sandwiches into the freezer until serving time. The sandwiches can be kept in the freezer, tightly covered, for a couple of days.