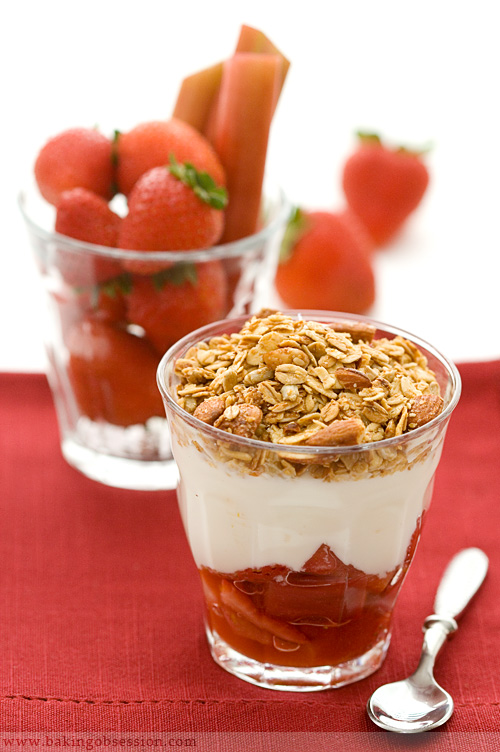 I often call it a breakfast. That means I have an excuse to have a dessert afterwards with my morning espresso.  Yes, I believe every meal should be followed by a sweet course.
I prefer to bake rhubarb instead of cooking on a stove since it lessens the chance of overcooking. The rhubarb is such a sneaky veggie; one minute it's raw and not even remotely done, the next moment – it's already a puree.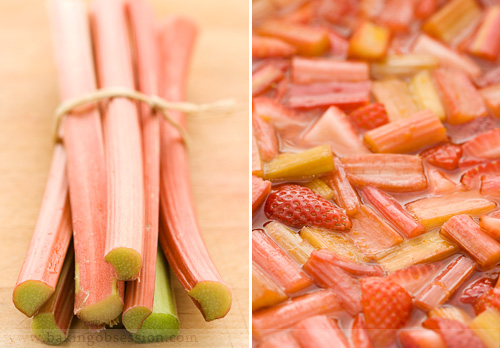 Number of servings entirely depends on the capacity of the serving vessels, as well as on your own preference of the components proportion.
For the rhubarb strawberry compote:
1 lb rhubarb, sliced lengthwise if the stalks are too thick and cut crosswise into 1-inch pieces
1/3 cup granulated sugar
Zest and juice of ½ orange
8 oz strawberries, quartered
1 tbsp Grand Marnier
For the granola (you can vary the ingredients according to your own taste):
2 cups rolled oats
2 cups kamut flakes (you can substitute for another 2 cups of oats)
1 cup lightly toasted whole almonds
½ cup lightly toasted sunflower seeds
¼ cup golden flax seeds
¼ cup wheat gem
½ tsp salt
½ cup maple syrup
¼ cup honey
2 tbsp vegetable oil
2 tbsp unsalted butter
1 tbsp pure vanilla extract
½ tsp pure almond extract
Yogurt for serving (Greek is fantastic)
Make the compote:
Center an oven rack and preheat the oven to 350F. Combine the rhubarb, sugar, zest and juice in a glass or ceramic baking dish (about 9×13-inch). Cover with foil and bake for 15 minutes. Remove the foil, add the strawberries and bake for another 5 minutes. Take out of the oven and add the Grand Marnier, stir gently with a rubber spatula to combine. Cool. Can be made a day in advance and stored in the refrigerator tightly covered.
Make the granola:
Center an oven rack and preheat the oven to 300F. Line a large (13×18-inch) baking sheet with parchment or silicone mat. Set aside.
Combine all dry ingredients in a large bowl, stir.
In a small saucepan, combine the maple syrup, honey, oil, and butter. Heat over medium heat, stirring, until the butter has dissolved. Remove from the heat, stir in the vanilla and almond extracts. Pour over the dry ingredients and stir well with a wooden spoon or rubber spatula. Transfer to the prepared baking sheet, spread into an even layer. Bake for about 30 minutes, stirring once halfway through, until golden brown. Cool on the baking sheet on a cooling rack.
You can stir in raisins, dry blueberries, cranberries, cherries or any combination (about a cup total) into the granola after it's been already cooled. If you wish to add some chopped dry fruits like apricots or dates, add them to the still baking granola when about 10 minutes of baking time is left. It will dry the fruits just enough to keep the granola crisp once they are combined.
The granola will keep for about two weeks at room temperature in an air-tight container.
Assemble the parfait:
Spoon some compote (about a quarter cup) into the bottom of each serving glass. Top with the yogurt. Sprinkle generously with granola and serve.