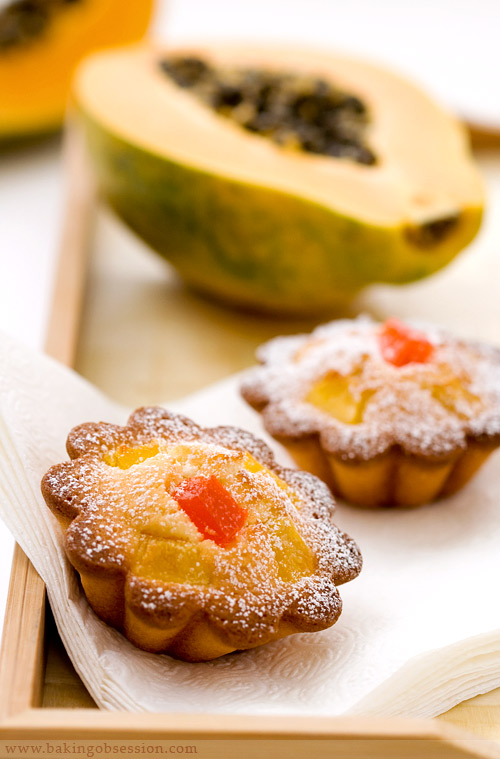 I bake with coconut often. This is the only nut my kid can eat. And besides, I like the taste. For these financiers I went with good quality dry papaya and pineapple as a topping, the ones that can be found in a health food section. I prefer the fruits in chubby chunks rather than thinly sliced, the latter are quite tough and excessively chewy. If you are luckier than we are and live in a warmer and dryer place where berries are in season, scatter some fresh raspberries over the top of the cakes instead of the dry fruits, if you prefer.
Makes about a dozen tiny cakes
Ingredients:
½ cup all-purpose flour
¼ tsp kosher salt
1 stick (8 tbsp) unsalted butter
½ tsp pure coconut extract (or use pure vanilla extract instead)
½ cup fine granulated sugar
¾ cup finely ground dry unsweetened coconut
3 large egg whites
About ¼ cup roughly chopped dry papaya
About ¼ cup roughly chopped dry pineapple
Preparation:
Butter 12 mini-muffin molds (don't grease the molds if they are silicone ones). Set aside.
Over a small bowl sift together the flour, and salt. Set aside.
Place the butter in a small saucepan over medium heat. Bring to a boil and cook the butter until it is medium brown and has a nutty aroma, 5-6 minutes. Do not allow to burn. Remove from the heat. Set aside to cool slightly. Strain through a fine-mesh strainer into a small bowl, add the coconut (vanilla) extract. Set aside.
In a medium saucepan, combine the sugar and ground coconut together, stir well. Add the egg whites stirring. Place the saucepan over low heat and, stirring continuously, heat until the mixture is hot to the touch and runny, about 4-5 minutes. Take the pan off the heat and stir in the flour mixture. Then gradually stir in the brown butter. Spoon or pipe the batter into the prepared molds filling them just below the rim. Cover tightly with plastic wrap and refrigerate for at least 1 hour and up to 3 days. You can also refrigerate the batter in a bowl, and later divide the chilled batter between the molds. But I found it's easier to do while the batter is in its liquid form.
When ready to bake center an oven rack and preheat the oven to 400F. Press some dry fruits into the top of each financier. Do not entirely submerge the fruits. Bake the financiers for about 14-15 minutes, until they are puffed and a cake tester inserted into a center comes out clean. Remove them from the oven, unmold immediately. Cool completely on the wire rack. They are the best the day they are baked.