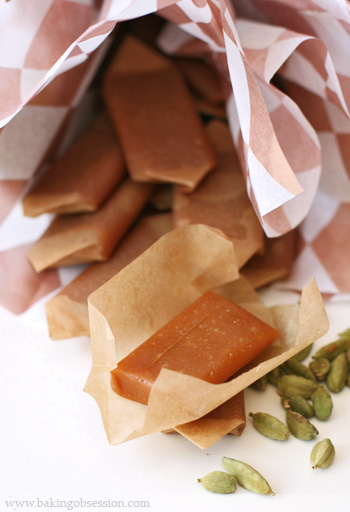 These soft caramels are not difficult to make and very easy to eat. I infused the cream with cardamom flavor and added a good portion of fleur de sel. I do have an addiction to salted caramel. I guess, it shows…
The recipe is from "Pure Desserts" by Alice Medrich (I'm addicted to her recipes, as well), slightly adapted.
Makes a lot (it entirely depends on the way you cut them)
Ingredients:
2 cups heavy cream
10 cardamom pods, bruised
3 tablespoons unsalted butter, cut into chunks, softened
2 tsp pure vanilla extract
¾ tsp fleur de sel
Preparation:
Line the bottom and sides of the 9-inch square baking pan with aluminum foil and grease the foil. If you don't use butter but oil spray, spray the foil just before pouring the cooked caramel. Otherwise, the oil will accumulate in puddles leaving some ungreased bare spots, to which the caramel will seriously stick.
In a medium saucepan, combine the cream and crushed cardamom pods. Bring to a boil over medium heat. Cover, let steep for 30 minutes.
Combine the corn syrup, honey, and sugar in a heavy 3-quart saucepan and cook over medium heat, stirring with a silicone spatula or wooden spoon, until the mixture begins to simmer around the edges. Wash the sugar and syrup from the sides of the pan with a pastry brush dipped in water. Cover and cook for 3 minutes. (Meanwhile, rinse the spatula or spoon before using it again later.) Uncover the pan and wash down the sides once more. Attach the candy thermometer to the pan, without letting it touch the bottom of the pan, and cook, uncovered (without stirring) until the mixture reaches 305°F.
Meanwhile, reheat the cream until tiny bubbles form around the edges of the pan. Turn off the heat and cover the pan to keep the cream hot.
When the sugar mixture reaches 305F, turn off the heat and stir in the butter chunks. Gradually stir in the hot cream pouring through a fine mesh sieve and leaving the cardamom pods aside; it will bubble up and steam dramatically, so be careful. Turn the burner back on and adjust it so that the mixture boils energetically but not violently. Stir until any thickened syrup at the bottom of the pan is dissolved and the mixture is smooth. Continue to cook, stirring occasionally, to about 245F. Then cook, stirring constantly, to 248F for soft, chewy caramels or 250F for firmer chewy caramels.
Remove the pan from the heat and stir in the vanilla and fleur de sel. Pour the caramel into the lined and greased pan. Let set for 4 to 5 hours, or overnight, until firm.
Lift the pan liner from the pan and invert the sheet of caramel onto a sheet of parchment paper. Peel off the liner and turn the caramel right side up. Cut the caramels with an oiled knife. Wrap each caramel individually in wax paper or cellophane.