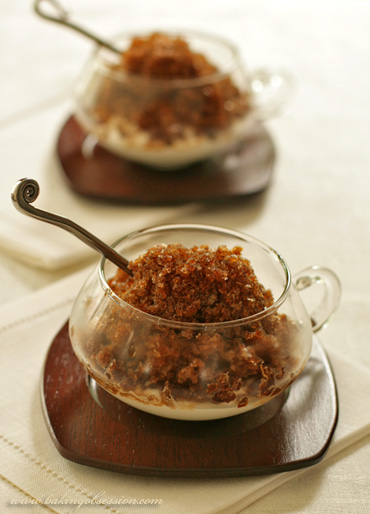 I've just had two servings of this for breakfast and I feel so happy, not to mention – energized! This is a truly wonderful summer treat for coffeeholics like me. But be aware that each portion contains a serious doze of caffeine. So, if you don't want to be held responsible for any fatalities, make sure people you are serving it to don't suffer from elevated blood pressure, or use decaffeinated espresso instead.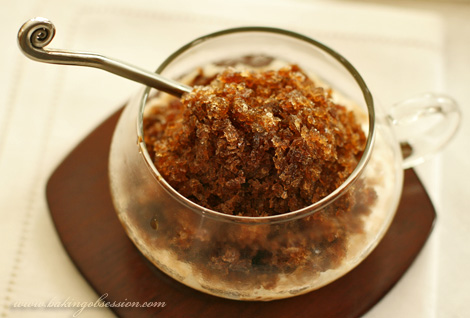 Serves 6
Ingredients:
2 cups hot espresso

1/3

cup packed brown sugar

1/8 tsp salt

1/2 cup whipping cream
Preparation:
In a bowl, whisk together the espresso, brown sugar, and salt until the sugar has dissolved. Cool to room temperature, then cover and refrigerate until chilled.
Pour the mixture into an 8-inch square baking pan (like Pyrex). Cover tightly and freeze for 2 hours, or until the mixture is starting to freeze around the edges. Scrape the frozen edges back into the mixture with a fork. Repeat every 30 minutes for about 3 hours, until evenly sized ice crystals have formed. It's not recommended to make granita well in advance. But you can make it a few hours before serving, just scrape it once in a while.
Right before serving, whip the cream until stiff peaks have formed. Divide the whipped cream between the serving glasses. Scrape the granite once again and scoop it over the whipped cream. Serve immediately.