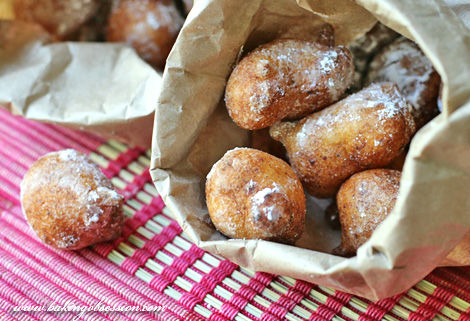 I guess everybody is familiar with classic Italian fritters. These are scented with nutmeg and lemon zest. Sure, they are good (as any food fried, to be honest) and incredibly tender. Fried and still warm zeppoli are divided between the lunch bags and then shaken with some icing sugar to coat. This dish should be very popular among kids – everyone gets his own bag of fritters. Isn't it appealing? But I would serve it in the backyard for sure, not at home.
I don't cook them often but occasionally I give my boys such a pleasure. To make the fritters a bit "healthier" I always use organic canola oil for frying and dump it as soon as all the batter is fried. I use rather small high-sided saucepan which requires only about 2 cups of oil, so I don't feel myself as a squanderer. If it still seems like a terrible waste, the oil can be reused once (I would although try to talk you out of using the same oil more than twice). Let the used oil cool, then drain it into an airtight container leaving any sediment behind and store it in the refrigerator until the next use.
The recipe is from Sherry Yard's latest book "Desserts by the Yard". If my description isn't convincing enough, may be mentioning the author's name will help…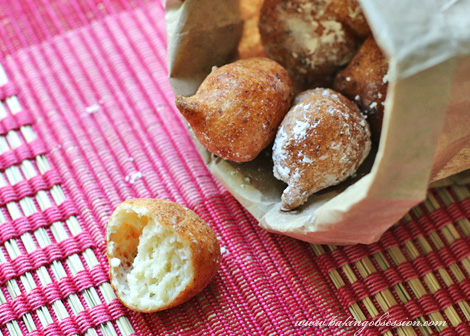 Makes about 4 dozens
Ingredients:
1 ½ cups all-purpose flour

1 tbsp + 1 tsp baking powder

¼ tsp salt

2 tbsp sugar

2 large eggs

2 cups ricotta

1 cup milk

½ tsp pure vanilla extract

¼ tsp freshly grated nutmeg

1 tsp grated lemon zest
¾-1 cup confectioners' sugar
Preparation:
In a medium bowl, whisk together the flour, baking powder, and salt to combine well.
Combine the sugar and eggs in another medium bowl and whisk until smooth. Add the ricotta and whisk to combine well. Add the milk, vanilla, nutmeg, and lemon zest and combine well. Whisk in the flour. Combine well. Cover the batter tightly with plastic wrap and refrigerate for at least 30 minutes. The batter can be made up to 4 hours ahead.
In a deep pot heat about 1 ½-2 inches of oil over medium-high heat until 350F. Set a wire rack over a baking sheet. Carefully spoon tablespoonfuls of the batter into the hot oil in batches. Cook for 2 to 2 ½ minutes, flipping over every 30 seconds, until golden brown on all sides and puffed. Using a slotted spoon, remove the zeppoli from the oil and drain on the rack.
Divide the zeppoli among the paper lunch bags. Add about 2 tablespoons confectioners' sugar to each bag, close up the top, and shake to coat the zeppoli. Serve hot.