(fragole al vino con ricotta e pepe)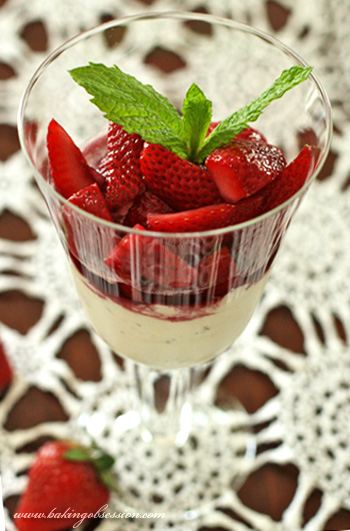 I guess I'm not the only one who thinks twice before turning the oven on and baking something when the weather is hot. And I'm not complaining, it's finally resembling summer here. Until now all we could enjoy was gray cloudy days.
This dessert is wonderful in many ways. It tastes superb. The ricotta cream spiked with cracked pepper is topped with Chianti marinated strawberries. Doesn't it sound good? I found the combination to be perfect. Make sure though to crack – not grind the peppercorns, or the cream will be too spicy. The dessert components can be prepared in advance and assembled before serving which is another plus. And the presentation is pretty, so summery bright!
The recipe is from Gina De Palma, the pastry chef at Mario Batali's Babbo.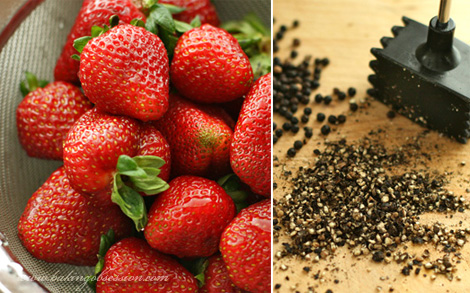 Makes 6 servings
For the strawberries:
1 pound ripe, fragrant strawberries
2 tbsp fine granulated sugar
1 cup Chianti Classico
For the ricotta cream:
1 ¼ cups fresh whole-milk ricotta
2 tsp black peppercorns, cracked
1 cup heavy cream
6 tbsp fine granulated sugar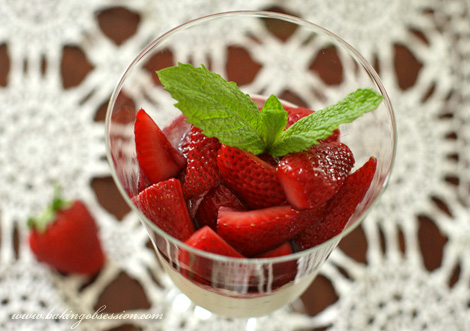 Marinate the strawberries:
About 2 hours before serving the dessert, rinse and dry the strawberries. Hull and cut the berries in quarters or in half lengthwise, according to their size, and place them in a large bowl. Sprinkle the sugar over the berries and toss them to distribute. Pout the wine over the berries. Using a large spoon, gently turn the berries to coat them in wine. Place the bowl in the refrigerator to chill, giving them a gentle toss every so often.
Make the cream:
Measure the ricotta into a medium size bowl. Stir in the cracked pepper and set aside.
Place the heavy cream and sugar into a bowl and whip with electric beaters on medium speed until soft peaks form. Transfer the whipped cream into the bowl with the ricotta and briefly beat until well combined and firm peaks form.
The cream can be made up to 3 to 4 hours in advance. Keep it covered in the refrigerator.
Assemble the dessert:
To serve, place a generous spoonful (or two) of the ricotta cream in each of six dessert glasses or bowls and spoon some of the berries and their juices over the top.