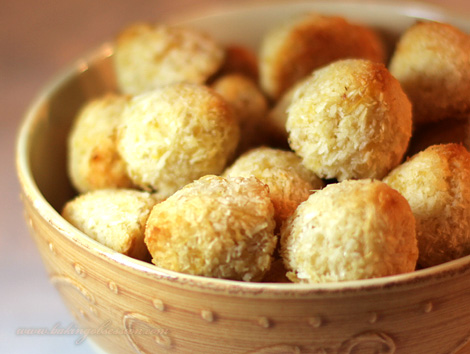 These are sooooo good! They are actually among my favorite cookies and I have to admit I'm quite picky… The cookies are easy to prepare but they are the best the day they are baked. This way they are crispy outside and creamy-chewy in the middle. The batter though can be refrigerated up to five days. So, prepare the dough, put it in a fridge and bake the cookies as needed. The recipe is from David Lebovitz's "Ripe for Dessert"
.
Makes 4 dozens
Ingredients:
One 20-oz can crushed pineapple packed in its own juice
1 cup sugar
3 ½ cups unsweetened coconut
3 large egg whites
½ tsp pure vanilla extract
Preparation:
In a large skillet (preferably nonstick), heat the crushed pineapple with its juice and the sugar until the liquid has evaporated. Continue to cook, stirring constantly, until the pineapple gets sticky and begins to stick to the pan and brown, about 15 to 20 minutes total. Remove from the heat. You should have about 1 ¼ cups.
In the bowl combine the coconut and the cooked pineapple. Stir in the egg whites and vanilla.
Center an oven rack and preheat the oven to 350 F. Cover a baking sheet with parchment paper or use a silicon mat.
Form the dough into 1 ½-inch-tall pointed mounds, squeezing the dough with your fingertips to form little pyramids.
Place the cookies on the baking sheet and bake for about 25-30 minutes, rotating the sheet halfway through baking, until the cookies are browned up the sides. Let the cookies cool on the baking sheet on a cooling rack.