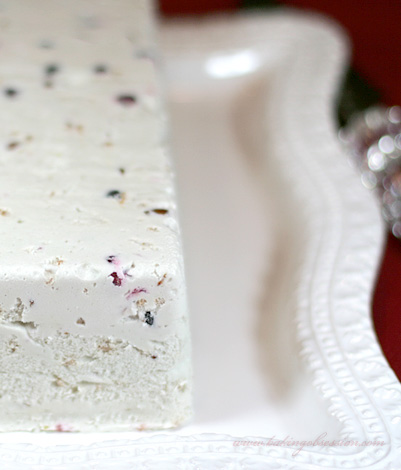 This is a delicious frozen dessert and you won't even need an ice-cream maker for this. There is another advantage – it can be made up to 3 days before serving and kept in a freezer. The recipe requires 6 egg whites which you might have left over after baking all these Christmas cookies.
Makes 8-10 servings
Ingredients:
4 cups fresh or frozen cranberries (do not defrost if you use frozen berries)
1 1/3 + ¼ cups granulated sugar
Grated zest of 2 medium oranges, preferably organic
¼ cup fresh orange juice
1 tbsp Grand Marnier
6 egg whites
Pinch of salt
1 tsp vanilla
1 cup whipping cream
¾ cup unblanched toasted almonds, chopped
¼ cup toffee bits
Preparation:
Line a 9×5-inch loaf pan with plastic wrap leaving 3-inch overhang on all sides of the pan. Or use a silicon pan if you have one, do not line the pan in this case.
In a medium nonreactive saucepan combine 1 1/3 cups of the sugar and orange zest. Rub with your fingers until the sugar is moist and very aromatic. Add the cranberries and orange juice. Bring to a boil over medium heat stirring until the cranberries pop and sugar is dissolved, about 7-10 minutes. Take off the heat, add the Grand Marnier. Cool, chill until cold.
This sauce can be made a day ahead, and kept in a refrigerator.
With a slotted spoon, put 1 cup of the cranberries into a large bowl. Set aside. Reserve the rest of the sauce for spooning it later over the semifredo slices.
Put the egg whites in a bowl of a stand mixer or just another bowl. Beat the whites until frothy, add the pinch of salt. Continue whipping until soft peaks form. Gradually beat in the remaining ¼ cup sugar, whip until stiff peaks form. Beat in the vanilla. Set aside.
In another bowl, whip the cream.
Into the large bowl with cranberries, add about one third of the whipped cream, then fold the rest of the cream. Gently fold one third of the whites, then the rest of the whites. Fold in the nuts and toffee bits. Pour the mixture into the prepared pan, smooth the top. Cover with plastic wrap overhang. Freeze until firm, at least 4 hours.
When ready to serve, unmold the semifredo. Cut with a hot dry knife. Put the slices on chilled plates. Spoon the reserved sauce over the semifredo and serve.