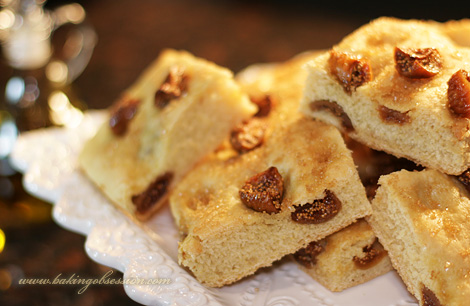 This is an example of simple country food. And you probably have all ingredients in your pantry. A crunch of the cornmeal ties so nicely with a crunch of seeds in the dry figs.
This is Carol Field's recipe.
Makes one, 10 ½ x 15 ½-inch focaccia; serves about 8
Ingredients:
8 oz dried figs, preferably Calmyrna
1 ½ cups water, room temperature
2 ½ tsp active dry yeast
2 tbsp extra virgin olive oil
½ cup plus 2 tsp cornmeal
3 cups unbleached all-purpose flour
1 ½ tsp salt
2 tbsp extra virgin olive oil
1 tbsp turbinado or demerara sugar
Preparation:
Soak the figs in the water for 30 minutes. Drain, reserving 1 1/3 cups of the water, and coarsely chop the figs. Warm the reserved water to 105 to 115 F. Sprinkle the yeast over the warmed fig water in a bowl of stand mixer, whisk it in, and let stand until creamy, about 10 minutes. Stir in 2 tbsp olive oil. In another bowl, whisk together the cornmeal, flour, and salt and add the mixture in 2 additions to the yeast mixture, stirring with a wooden spoon until a dough is formed. Place the bowl onto the stand mixer base and knead with a dough hook for about 4 minutes, or until the dough is firm and slightly sticky.
Note: if you don't have the stand mixer you can knead the dough by hand, for about 8-10 minutes.
Place the dough in a lightly oiled bowl, cover it tightly with plastic wrap, and let rise until doubled, about 45 minutes.
On a lightly floured work surface, flatten the dough into a 7-8 x 14-inch rectangle. Distribute three quarters of the figs over the dough, leaving a 1-inch margin around the edges. Fold in all the sides and roll the dough into a cylinder. Place in an oiled
10 ½ x 15 ½ -inch baking pan and flatten with the palm of your hand, being careful to keep the figs from poking through the skin of the dough. Press gently on the surface to stretch the dough to fit the bottom of the pan and, when it resists, cover and let stand for 10 minutes. Stretch the dough again until it reaches the edges of the pan. Cover with oiled plastic wrap and a towel and let rise until doubled, about 1 hour.
At least 30 minutes before baking, preheat the oven to 400 F with a baking stone inside, if you have one. Dimple the dough lightly with your fingertips, drizzle with 2 tbsp of olive oil, dot the remaining figs over the top, and sprinkle with the sugar. Place the pan directly on the stone and bake until the focaccia is golden, about 20-25 minutes. Serve warm or at room temperature.
The focaccia is best served the day it's baked.