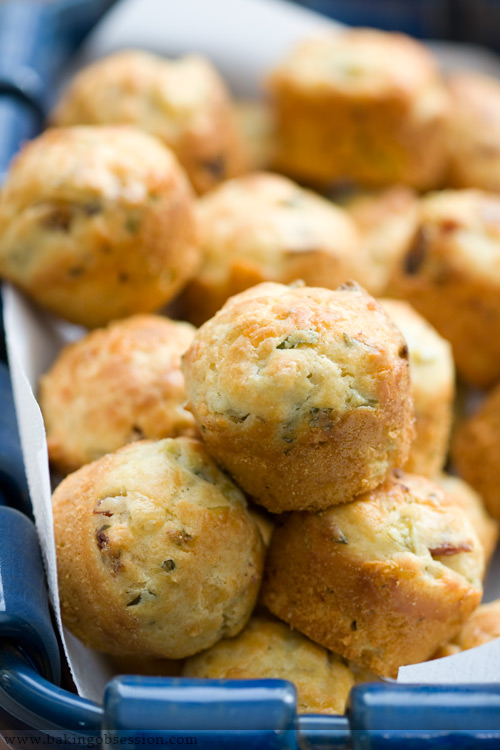 This recipe was born out of the need to utilize some leftover filling I used to stuff chicken breasts for our dinner. I also conveniently got rid of some Italian salami that was left on an antipasto platter after the same dinner. Maybe this is not a very fascinating or motivating preface, but let me assure you, these little things are loaded with flavor.
I believe the most delicious recipes are created accidentally, without too much hope or expectation of a great result.
Makes 24 mini muffins
Ingredients:
1 ½ cups all-purpose flour
2 tsp baking powder
¾ tsp sea salt
½ tsp freshly coarsely ground black pepper
½ cup milk, room temperature
¼ cup extra-virgin olive oil
3 large eggs
3 oz Fontina cheese, coarsely grated
1 ½ oz Parmigiano-Reggiano, finely grated
½ cup (3 oz, about 3 hearts) finely chopped drained artichoke hearts (canned in brine)
¼ cup (1 oz, about 4 tomato halves) finely chopped sun-dried tomatoes, packed in olive oil
¼ cup (1 ½ oz) finely chopped Italian salami
¼ cup finely chopped fresh basil
Olive oil and bread crumbs for the molds
Preparation:
Center an oven rack and preheat the oven to 375F. Spray 24 mini-muffin molds generously with olive oil, sprinkle with the bread crumbs.
In a bowl, whisk together the flour, baking powder, salt, and pepper.
In a smaller bowl, whisk together the milk, extra-virgin olive oil, and eggs. Pour over the dry ingredients and stir just until combined. Stir in the grated cheeses, then fold in the chopped artichokes, tomatoes, salami, and basil. Divide between the prepared muffin molds.
Bake the muffins for about 25 minutes, until golden brown and a cake tester inserted into the center comes out clean. Cool the cupcakes for 5 minutes on a cooling rack, then unmold and serve warm. To unmold, first run an offset spatula around the sides, twist the muffin and extract from the mold.