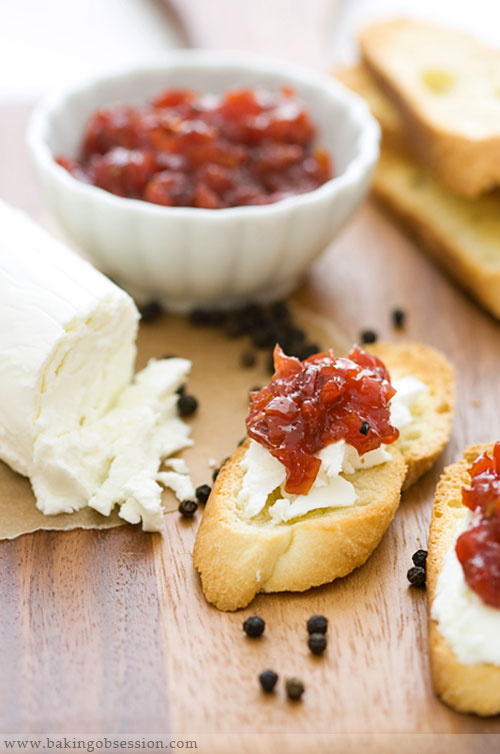 I spotted this idea in Bon Appétit a couple of years ago and fell instantly in love. I've been making the marmalade regularly since then, as often as I lay my hands on organic blood oranges.
Adapted from Bon Appétit.
Makes about 6 servings
Ingredients:
Crostini made from 1 French baguette
8 oz soft unripened goat cheese, at room temperature
6 small organic blood oranges (1½ pounds)
¼ cup honey
Juice of ½ small lemon
¼ tsp coarsely ground black pepper
Preparation:
Using a vegetable peeler, remove the orange peel (orange part only) in strips from 3 oranges. Cut the peel into 1/8- to 1/4-inch pieces and place in a medium saucepan. Using a sharp paring knife, peel the remaining 3 oranges, removing bitter white pith completely. Cut the white pith from the first 3 oranges as well. Working over a small bowl to catch juices, cut between the orange membranes to release the segments. Squeeze any remaining juice from the membranes into the saucepan. Discard the membranes. Coarsely chop the orange segments and add to the saucepan along with any juices. Add the juices from the bowl to the saucepan as well. Stir in the honey, lemon juice, and 1/4 teaspoon coarsely ground black pepper. Bring to a boil over medium-high heat and simmer, stirring often until it's reduced about in half and thickened, about 20-25 minutes. The temperature should be around 220F. Cool and store in the refrigerator in an air-tight container. Consume within a week.
To serve, spread each crostini with the goat cheese and top with the marmalade. It's terrific.