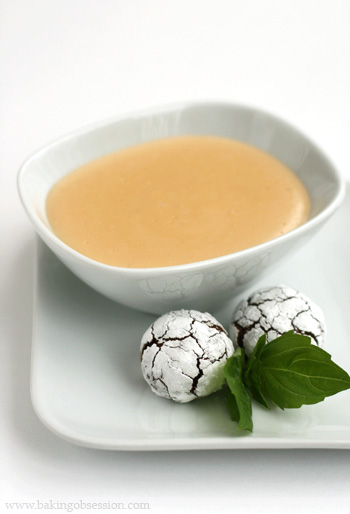 This pudding is so creamy, so wonderfully smooth, so delicately flavored. I wish the picture could have been more persuasive. The lack of decent daylight here adversely affects the quality of the photographs. But you can trust my words – this pudding is very much worth to be made. It can be enjoyed warm, cool, or chilled. If you are not quite fond of a pudding skin, press plastic wrap directly against the surface as soon as you poured the pudding into serving bowls. I usually skip this step.
The recipe is from the "Bittersweet".

Serves 6 – theoretically (I wouldn't be so sure, four of us gobbled it up and then regretted there were no more)
Ingredients:
3 cups half-and-half
¼ cup plus 2 tbsp cocoa nibs
½ cup sugar
¼ cup minus 1 tsp cornstarch
Scant ¼ tsp salt
Preparation:
In a small saucepan, bring the half-and-half and nibs to a gentle boil over medium heat. Remove from the heat, cover, and let steep for 20 minutes.
Strain the half-and-half into a bowl, pressing on the nibs to extract most of the liquid. Discard the nibs.
In a medium heavy saucepan, mix the sugar, cornstarch, and salt with about 1/3 cup of the infused half-and-half to form a smooth paste. Stir in the remaining half-and-half. Place over medium heat and stir constantly with a wooden spoon until the mixture begins to thicken. Reduce the heat to low and continue stirring until the pudding begins to simmer. Simmer, stirring, for 1 more minute.
Remove from the heat and pour into the ramekins or custard cups. Serve warm, cool, or chilled.